Hard-Partying Happy Days Alum Erin Moran Pictured Homeless & Haggard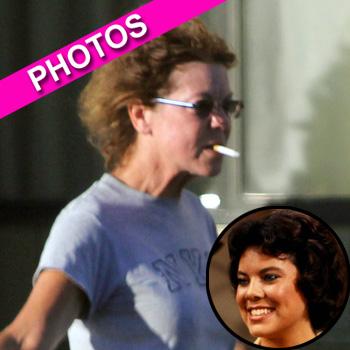 By Amber Goodhand - Radar News Editor
Happy Days alum Erin Moran has hit rock bottom — homeless and haggard — and RadarOnline.com has the latest photos of the 51-year-old actress.
Erin was kicked out of the trailer she'd been sharing with her husband, Steve Fleischmann, by his mother who was tired of her hard-partying ways.
The couple were snapped outside a Holiday Inn Express in Corydon, Indiana, two weeks ago with cigarettes dangling from their mouths, baseball caps on and what appears to be their pet Great Dane.
Article continues below advertisement
According to the National Enquirer, Erin and Steve have been bouncing from motel to motel, but are quickly blowing through a cash settlement she was awarded by CBS over merchandise revenue and she will be left without a roof over her head.
"On several occasions the hotel management warned Erin to curb her unruly behavior," the Enquirer reported about a cheap hotel in Corydon.
"But they finally had enough of her temper and demanded that she immediately leave the property."
Erin played Richie Cunningham's sister, Joanie, on the hit 70's sitcom.
RELATED GALLERIES: