Happy Days Star Erin Moran Gets Into Drunken Brawl With Her Mother-In-Law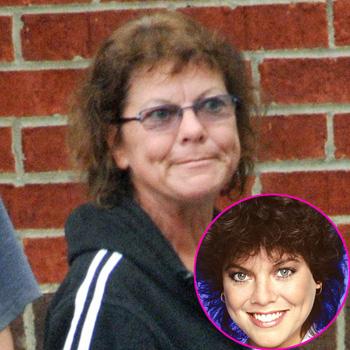 Happy Days star Erin Moran has continued her downward spiral by getting into a drunken street brawl with the mother-in-law who had tried to save her from homelessness!
The 51-year-old former child star and husband Steve Fleischmann, 45, had been living in a trailer with his elderly mother in Indiana, until they were booted out for excessive non-stop partying, exclusively revealed the National Enquirer.
Article continues below advertisement
After weeks of bouncing from one hotel to another and blowing through nearly all of their money, the wayward couple had asked his mom if they could move back in with her, but she refused.
But rather than honor her wishes, an insider told the magazine, Erin and Steve hatched a plan for him to move in and for her to sneak in after his mom went to bed. But the ruse fell apart when the 72-year-old woman caught Erin trying to slip into the trailer, and she exploded!
The situation got so tense that Steve's mom threatened to call the police if Erin didn't leave immediately, a source exclusively told the Enquirer.
"She finally did leave, but Steve's mom was right on her heels, chasing her out of the trailer, shouting at Erin as she made her way across the yard to their car," said the eyewitness.
"Steve's mom was standing in the street in a nightgown and hair curlers, and the two women were screaming profanities at each other."
MORE ON:
hollywood happenings
Article continues below advertisement
"It's evident that Erin's living situation has become more dire than ever before," added the source. "She's desperate and quickly running out of options."
The outburst was the latest bizarre act by the Joanie Cunningham actress, who as RadarOnline.com previously reported recently enjoyed a random night of drunkenness in the parking lot of the Corydon, Indiana motel where she was staying.
For the full story, the new issue of the National Enquirer is on newsstands Thursday.