Son Of Real Housewives of Miami's Alexia Echevarria Wanted By Police In Attack On Homeless Man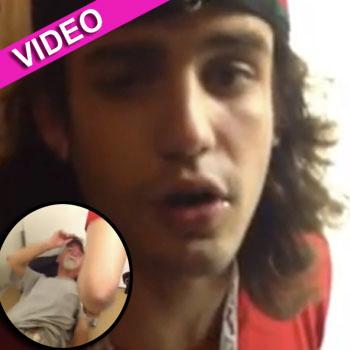 By Adam S. Levy - RadarOnline.com Staff Writer
Police in Miami Beach are looking to speak with Peter Rosello, the son of The Real Housewives of Miami's Alexia Echevarria, in the wake of a disturbing Youtube video which shows him punching a homeless man in the crotch for no apparent reason.
In the 35-second video titled "Hobo Gets Nutchecked," the male model Rosello walks up to 62-year-old Gary Lee Brown, claims he's about to punch "a hobo in the nuts," and does just that, delivering a hammer-like blow to the destitute man before scampering away.
Article continues below advertisement
Miami Beach police spokesman Bobby Hernandez told NBC 6 there's probable cause to arrest Rosello between the video and the homeless man's sworn statement.
"We have enough from the victim to pursue this criminally," said Hernandez.
If arrested, Rosello will be charged with battery on a homeless person, a third-degree felony.
"The fact that he's homeless makes it a third-degree felony," Hernandez told WPLG-TV. "If it wasn't a homeless individual, it would have been a first-degree misdemeanor, but the charges are enhanced."
Echevarria, who calls herself the Cuban Barbie, tells NBC 6 her son is "not an aggressive person, especially not with the homeless,"
"He wasn't himself ... it's not what he is, and it's unfortunate," said Echevarria, who works as the executive editor for Venue Magazine.
Watch the video on RadarOnline.com (WARNING: The Video Is Disturbing)
Rosello last tweeted late Thursday, responding to a user who called him "a f***ing lightweight p***y," presumably in response to the video.
Article continues below advertisement
Rosello responded: "look who's talking. I beat the f**k out of you f***ing loser waste ur time to tweet me. You F** n***a."