Major League Body Art Fouls! The 10 Worst Tattoos In Baseball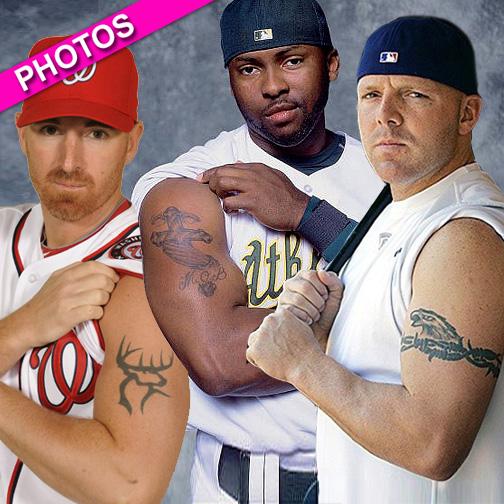 Not every baseball star hits a home run with their body art!
The World Series is in full swing with the San Francisco Giants facing off against the Detroit Tigers. In honor of the championship series, RadarOnline.com has photos of the worst tattoos in the game of baseball.
Hopefully, New York Mets' Jon Rauch lives happily ever after with his wife! The pitcher has a rather extensive collection of body art, including a large vertical back tattoo symbolizing his wedding day, the Olympic rings commemorating his 2000 gold medal win and a variety of other meaningless symbols.
Article continues below advertisement
Arizona Diamondback Ryan Roberts isn't bashful about his body art! The infielder, who clearly earned his nickname "Tatman" has over 30 permanent etchings plaguing his body.
New York Yankees Andruw Jones, who is currently playing in the series, clearly spends his time off the field getting inked. His most famous tattoo is a spider web on his left elbow.
Which other baseball stars sport not-so-pretty tattoos? Find out by clicking here.