Lucky There's Laser Removal! Celebrities Who've Gotten Tattoos Of Other Celebrities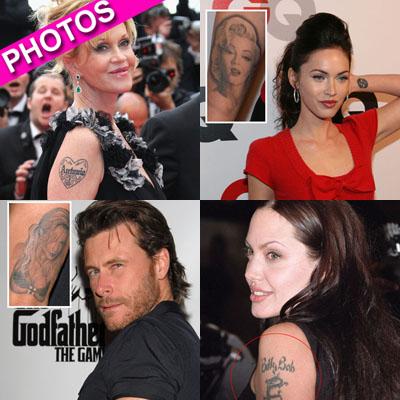 Hollywood romances and role model aspirations don't always last a lifetime, but that doesn't stop these stars from getting their lovers and idols permanently inked on their hot bodies!
From big screen bombshells and reality stars to sexy singers and pranksters, these celebrities have made permanent commitments to their lovers and peers – by getting their names and faces tattooed on their skin. RadarOnline.com has photos of 10 stars who have gotten tats of other stars.
Article continues below advertisement
Angelina Jolie and Eva Longoria learned the hard way that tattoos last longer than love! Both the sexy thespians infamously got tats in honor of their former husband's, Billy Bob Thornton and Tony Parker, but shortly after their rendezvous with the needle, their relationships crashed and burn.
"I would say approximately 50% of the tattoos we remove are the names of former flames," Marla Esposito, the Executive Director of Operations at LaserAway revealed to RadarOnline.com.
"The saying around here is 'as soon as you get your lover's name tattooed on your body, the relationship is over' – and that's when they come to us to 'laseraway' the old name before moving on to a new relationship."
Take note girls!
Go big or go home! Nick Cannon, Melanie Griffith and Dean McDermott all have supersized and permanent symbols of their love for their spouses. While Cannon sports a back-spanning 'Mariah' Carey tattoo and Griffith is armed with a heart around 'Antonio' Banderas' name, McDermott flaunts his wife, Tori Spelling's, fake boobs and famous face on his arm.
It's obviously more common to get your lovers name inked while you are still together, but Chad Johnson waited until after Evelyn Lozada dumped him due to their domestic violence incident, to get the Basketball Wives beauty inked on his leg.
Which other stars have gotten ink in honor of other stars? Find out by clicking here.