Awful Body Art Of The Rich And Famous! 20 Stars With Really Bad Tattoos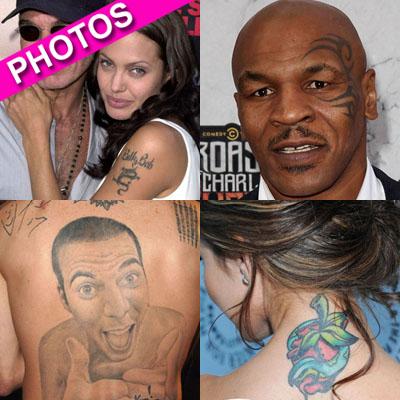 Rihanna isn't the only star to grab attention with outlandish ink!
From misspelled inspirations and crazy cartoon characters to names and images of former lovers, Hollywood stars have never been afraid of going under the needle and getting permanently inked with some of the worst body art! RadarOnline.com has photos of some of the biggest celebrity ink offenders.
Angelina Jolie's 'Billy Bob' tattoo is definitely in the body art hall of shame, but if you think her homage to her ex husband was bad, wait until you see Steve-O's take on the situation. The Jackass star got the identical inscription inked on the same arm as Jolie.
Article continues below advertisement
And Eva Longoria also learned the hard way, not only getting her wedding date inked on her wrist, but also her ex-husband Tony Parker's jersey number on the back of her neck!
Hopefully Tori Spelling and Dean McDermott will stay together forever, because the hunk has his bra-clad bride tatted on his arm.
Oops! Hayden Panettiere has a huge body tattoo, which is supposed to read 'To live without regrets' in Italian, but the word 'live' is misspelled, while Britney Spears ended up with the Chinese symbol for "strange" instead of "mysterious."