Body Art Of The Rich And Famous! 10 Stars With Tramp Stamps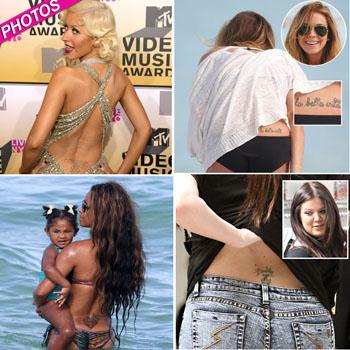 Baby got an inked back!
It's no secret that Hollywood's hottest stars aren't afraid of needles, getting tattoos inked all over their bangin' bods. Without a doubt, the most scandalous place for body art is the lower back and a few handfuls of stars aren't bashful about showing theirs off in sexy style. RadarOnline.com has photos of 10 stars with "tramp stamp."
What better way to honor your late father than with a tattoo in his honor – right above your famous backside! Khloe Kardashian has the word "daddy" etched right above her bum, a decision that she later lived to regret.
Article continues below advertisement
Mickey Mouse Club alums Christina Aguilera and Britney Spears both went on to become chart-topping singers with sexy lower back tats! While Aguilera flaunts a Hebrew inscription, Spears has a drawing of a colorful fairy.
Lindsay Lohan isn't bashful about her body art! The notorious bad girl has the Italian phrase "la bella vita" translated to "the beautiful life" permanently etched on her body.
Which other stars sport "tramp stamps" on their lower back? Find out by clicking here.