Awful Body Art Part 2! 10 More Really Bad Celebrity Tattoos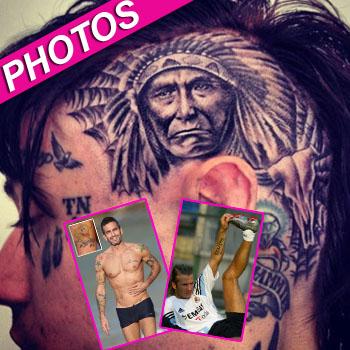 You would think that celebrities would deliberate long and hard before hitting the tattoo parlor and permanently inking their hot bodies, but apparently not!
From misspelled names and words to wacky cartoon characters, Hollywood's hottest stars have been known to get some of the worst body art etched on their skin. RadarOnline.com brought you 10 photos of really bad celebrity tattoos -- and now we have even more!
Article continues below advertisement
Angelina Jolie's 'Billy Bob' tattoo is definitely in the body art hall of shame, but if you think her homage to her ex-husband was bad, wait until you see Steve-O's take on the situation -- the Jackass star got the identical inscription inked on the same arm as Jolie.
Dean McDermott may have Tori Spelling's face tatted on his arm, but Carey Hart definitely one-upped him! The motocross stud has an image of his wife Pink, looking dead and skeletal, on his leg.
Oops…she did it again! Britney Spears intended on getting the Chinese symbol for 'mysterious' etched on her body, but ended up with 'strange' instead!
And Marc Jacobs may be one of the biggest fashion authorities in the world, but the famed designer has one of the worst body art collections, including an image of SpongeBob SquarePants.
To see all of the really bad celebrity tattoos, click here!.