Exclusive
Simpson Sisters Divided! Jessica & Ashlee Split Over Parents' Bitter Divorce!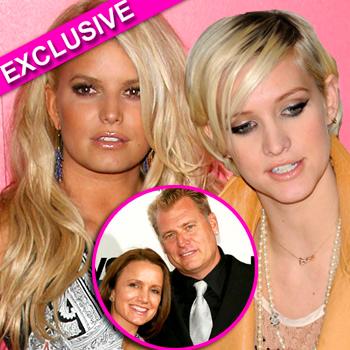 Article continues below advertisement
"Jessica and Ashlee are split over their parents' decision to divorce," a source close to the Simpson family revealed. "Jessica is devastated that Tina has been dealt such a blow. She can't believe what Joe has done to her after all these years and has been offering her mom all the support she can.
"But Ashlee is pinning the blame on her mom for not giving Joe enough attention during their marriage. She believes Tina was absent too often and that caused Joe to look elsewhere.
"Jessica and Ashlee can't agree on who's right or wrong, when in reality they just have to accept the situation and support both their parents during this difficult time," the source revealed.
Meanwhile, as RadarOnline.com previously reported, the stress of her dad's gay scandal has caused Jessica to fall off the diet wagon.
The singer-turned-fashion designer has been eating her emotions away after it was reported that Joe, 54, had gay relations with two men.
Article continues below advertisement
"Jessica's diet has been seriously derailed ever since the gay allegations against her father were released," a source told RadarOnline.com.
"While she's not diverting from the diet, Jessica isn't sticking to the portion plan and isn't losing as much weight as she should.
"She knows that as the Weight Watchers spokesperson she has to be more disciplined, but her emotions are all over the place right now."