President Obama Cries While Thanking Campaign Staffers After Win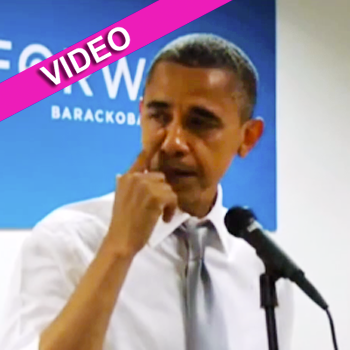 A day after vanquishing Mitt Romney, an overly emotional President Barack Obama wept while thanking a group of 800 campaign workers and volunteers in Chicago on Wednesday. The video was just released overnight, and RadarOnline.com has it for you.
"When I come here and when I look at all of you, what comes to mind is not that you guys actually remind me of myself, it's the fact that you are so much better than I was, in so many ways," the president said. "I'm absolutely confident that all of you are going to do just amazing things in your lives -- what Bobby Kennedy called the ripples of hope that come out when you throw a stone in a lake -- that's going to be all of you."
Article continues below advertisement
The 44th U.S. president said that even before winning Tuesday, he "felt that the work he'd done in running for office had come full circle, because what his volunteers have done means that the work that he's doing is important.
"And I'm really proud of that," he said, tears welling up in his eyes. "I'm really proud of all of you."
Watch the video on RadarOnline.com
He continued, "Whatever good we do over the next four years will pale in comparison to what you guys end up accomplishing for years and years to come. And that's been my source of hope.