Rod Stewart's Shocking Drug Confession: 'I Shoved Cocaine Up My Bottom!'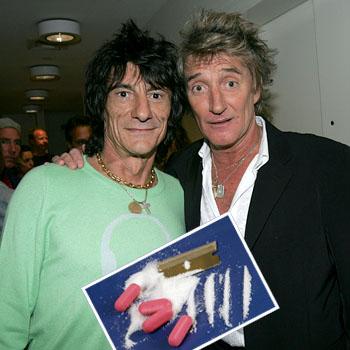 Rod Stewart has opened up about his sex, drugs and rock 'n' roll heyday, making a number of shocking sensational confessions while promoting his new tell-all book.
One confession, that he made on Access Hollywood, is that he and fellow Faces bandmate, Ronnie Wood, used to "shove cocaine up their bottoms using a suppository."
Rod, explained that they decided on the unusual drug taking method as Ronnie was concerned snorting cocaine was ruining his septum.
Article continues below advertisement
"What happened to Ronnie scared him, so we found another method of taking the drug. We put them in a little pill like the French do them, a suppository," Rod said. "We did that for a little while."
However, Rod was quick to point out that drugs were only ever recreational for him, "As far as the drugs are concerned, I was never an addict.
"I was never, you know, in rehab. It never affected my family or my relationships. I was just a social user."