Kimberly Stewart Shows Off Her Baby With Benicio Del Toro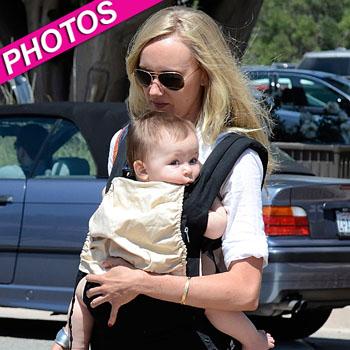 Kimberly Stewart took her daughter, Delilah, out in Malibu Saturday, and the adorable little girl is a dead ringer for her dad, Benicio del Toro.
Accompanied by proud grandma Alana Stewart, Kimberly cradled her 11-month-old daughter in an Ergobaby carrier.
As RadarOnline.com previously reported, Delilah was born with a condition called Plagiocephaly (or flat head syndrome), which causes the head to be misshapen and is cured with the help of a cranial molding helmet, worn for several weeks. It appears the helmet did its job, and Delilah looked happy and healthy during her outing.
Article continues below advertisement
Kimberly, whose dad is rocker Rod Stewart, and Del Toro are no longer together but she's said the Savages star in a very hands-on father.
"The whole family, including Benicio, was at the hospital and my mom and Benicio were in the delivery room with me," Kimberly said last year.
"Benicio's very involved. He and Delilah have a very special bond."
RELATED STORIES:
Mariah Carey Cuddles DemBabies!
Katherine Heigl Debuts New Baby Daughter Adalaide