Exclusive
Oh No! Find Out Why Benicio Del Toro & Kimberly Stewart's Little Girl Has To Wear A Helmet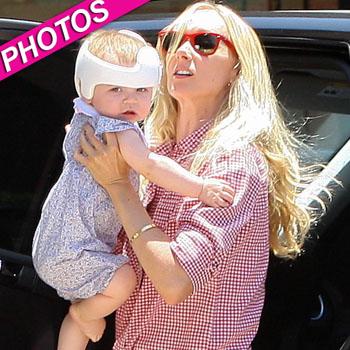 Article continues below advertisement
"Babies are getting bigger, sooner and faster because of the increased standards of nutrition so they find a nice comfortable position in the womb and stay there," explained Dwain Faso, Clinical Services Manager at STAR Cranial Center of Excellence, in an exclusive interview with RadarOnline.com, and as they are moving around less during pregnancy, increasingly their heads do not develop symmetrically.
MORE ON:
hollywood happenings
While the condition is not life-threatening and doesn't lead to brain damage, it can cause health problems such as ear infections or jaw issues because the bony structures of the head and ears are misaligned.
Children who suffer form the condition usually begin wearing a helmet at around four months to gently remold the head into a normal shape, revealed Faso.
"They should start the younger the better," he told RadarOnline.com. "And wear them anywhere between two to six months depending on the severity."