Kimberly Stewart & Benicio Del Toro's Daughter Already Cashing In!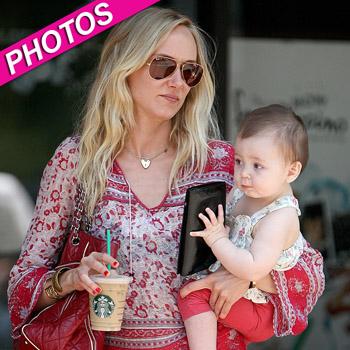 She's only 10 months old but judging by these pictures Kimberly Stewart and Benicio del Toro's darling daughter is already cashing in on her famous folks!
Wearing a cute summer dress and sporting a full head of dark hair, Delilah got to grips with her mom's expensive purse, chewing at the edges despite having just eaten breakfast, and RadarOnline.com has the super cute photos.
Luckily for the tiny tot, Stewart - who met up with her actor friend Scott Caan during the Bel Air outing on Sunday - didn't seem to mind as she smiled and laughed at her little girl.
Article continues below advertisement
The stylish mom was certainly hands on carrying her daughter, an oversized bag and an iced drink all at the same time.
Despite not being a couple, Kimberly - the daughter of rocker Rod Stewart - says del Toro is 'very involved' with Delilah's upbringing and she admits she's inherited some of his looks too.
"She definitely looks like her dad," she said of her daughter. "But she has my legs and eye color."