British Granny Sentenced To Death By Firing Squad For Drug Smuggling Is 'Shocked, Depressed & Crying'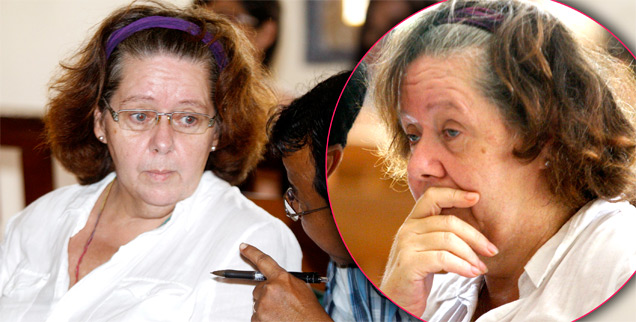 Back in her Bali prison after receiving a sentence of death by firing squad on Tuesday, British grandmother Lindsay Sandiford is overwhelmed by the devastating news and refusing to even emerge from her cell to see closest relatives.
"She looked shocked and very depressed today. She also kept crying. She just locked herself in the cell and she doesn't want to talk and meet anyone," a female guard at the Kerobokan Jail on the tropical Indonesian island told the Melbourne Herald Sun.
Article continues below advertisement
As RadarOnline.com previously reported, the 56-year-old granny, from Gloucestershire, England, was arrested at the airport last May after 10.6 pounds of cocaine was found in the lining of her suitcase during a routine customs check — however she maintains that she was forced to take the drugs into the country by a gang that was threatening to hurt her children.
When Sandiford's sister, Hilary Parsons, came to visit her on Wednesday she was too upset to even leave the cell she shares with 12 other women and her sibling was eventually escorted from the visiting area to see her.
Her dour mood was a sharp contrast to her positive attitude the week before sentencing, during which guards said that Sandiford had adapted well to prison life and spent time doing embroidery in the cell block.
The notorious Balinese prison is highly overcrowded, with 988 male and female prisoners in a jail originally built to house one-third that number, according to the Herald Sun.
Dubbed the 'Queen of Cocaine,' because of the large amount of drugs she allegedly carried, Sandiford is now one of four foreigners on death row in Kerobokan, where she will no doubt spend years appealing her capital sentence.