Jealousy, Lies & Murder! Prosecutor Rips Jodi Arias Under Cross-Examination, Uses Her Journal As Evidence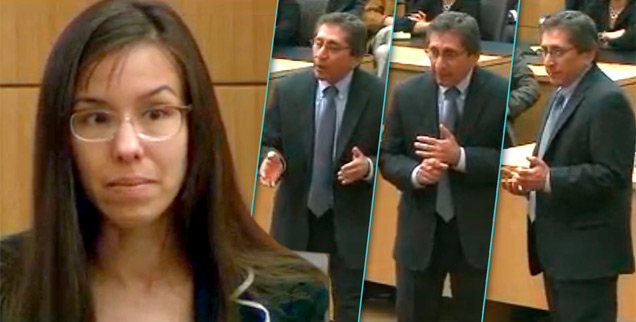 UPDATE: 6;40 PM EST Text messages, Jodi Arias' personal journal and a magazine with a coded message from the accused murderer were crucial pieces of evidence used by prosecutor Juan Martinez during his first day of cross-examination of the defendant. After spending much of Thursday attacking Arias in a loud voice with rapid fire questions, Martinez settled in later in the afternoon and scored some of his best points against Arias, who remained calm in the face of his most fierce onslaught. But despite her composure, Arias seemed to be damaged by text messages showing inconsistencies in her story the day she claims she caught victim Travis Alexander looking at underage porn. And her own journal omitted references to what she later claimed was a vicious physical attack against her by Alexander. Late in the day Martinez seemed to surprise the defense by introducing Star magazine into evidence, and showing that Arias had written code on one page -- a code that indicated she was asking someone else to tailor the storiy about events surrounding Alexander's killing. Court is adjourned until Monday.
Article continues below advertisement
UPDATE: 4:40 PM EST Jodi Arias kept her composure under cross-examination, even getting in a shot of her own against prosecutor Juan Martinez. As the lawyer raised his voice over and over again while trying to get her to admit Travis Alexander did not injure one of her fingers, he asked: "When do you have a memory problem?" In a steady voice, Arias replied: "Usually when men like you are screaming at me...or Travis."
UPDATE: 4:05 PM EST "When do you decide to tell the truth?" prosecutor Juan Martinez bellowed at Jodi Arias as the afternoon session of her death penalty trial began tediously and quickly escalated to high drama on Thursday. Martinez hammered away during cross examination, trying to use Arias' personal journal to prove the murder defendant lied about Travis Alexander damaging one of her fingers. The lack of a journal entry about the injury was strong material for Martinez. "Nothing has stopped you from telling this story ever, correct?" he asked forcefully. But Arias maintained her composure and answered, "That's not correct." As Martinez raised his voice repeatedly during questioning, Arias stayed calm, sometimes returning a question with a question of her own.
Article continues below advertisement
Prosecutor Juan Martinez ripped into murder defendant Jodi Arias under cross examination Thursday, firing questions at a furious pace while attempting to expose her as a jealous liar who has told multiple contradictory stories. At one point he sarcastically asked: "Do you have a problem with memory?"
Arias,32, is facing the death penalty, charged with murdering ex-boyfriend Travis Alexander, 30. He was shot in the face, stabbed 27 times and had his throat slit.
"Whatever you told us in the past is somewhat suspect because your memory may be lacking, right?" Martinez said sarcastically, after a staccato barrage of questions on subjects a diverse as what disparaging name Arias called her own sister and how she damaged her left ring finger.
Interestingly, when Martinez said: "Again, do you have a problem with memory?' the defendant answered, "occasionally."
Martinez introduced Arias' journals into evidence and concentrated on exposing several contradictory versions Arias told about how her left ring finger was damaged, including one that it was injured when Alexander kicked her. But the prosecutor played part of her interview with a police detective where Arias gave a different account.
Article continues below advertisement
In one dramatic moment Martinez referred to Arias' journal where she wrote about loving Alexander deeply. Martinez, clearly angling to prove Arias committed murder from jealousy and rage, then said to Arias , "because you were in love with him and you didn't want to let him go."
As RadarOnline previously reported Arias even lied in her own journals. That has not yet come out in court.
Arias and Alexander were no longer officially dating when she killed him, but they still had a sexual relationship.
Arias seemed to adjust quickly to Martinez's fast-paced questions after first appearing off guard and slightly rattled by his hostile tone. This is the first chance the prosecution has had to question the defendant, who testified Wednesday that she did not remember stabbing Alexander and shot him accidentally as he charged at her while she feared for her life.
Martinez attempted to show contradictions and lies in many of Arias' previous recollections, including when she saw Alexander making out with another woman as she looked through a glass door at his home.
Article continues below advertisement
At one point Martinez had Arias hold up her left ring finger for the jury, and the finger was visibly bent. He then continued to hammer at the different versions she told about how it was injured.
"You told Detective Flories that it was your left finger that had been damaged (on June 4, 2008, the date of Alexander's murder), " Martinez barked. He then played a tape of that police interview where Arias appeared to admit just that.
The fast paced established early by Martinez in the Maricopa County Courtroom slowed to a crawl as several breaks were taken to admit evidence, including Arias' personal journals, which were filled with entries about how much she loved Alexander, even after they had ended their dating relationship.
You can watch a live stream of the trial here on RadarOnline.com and stay with us for the latest developments. You can also watch highlights of the morning session below.