Jodi Arias Testifies Alleged Murder Victim Broke Her Finger In Fight, Describes Horrific Sexual Encounter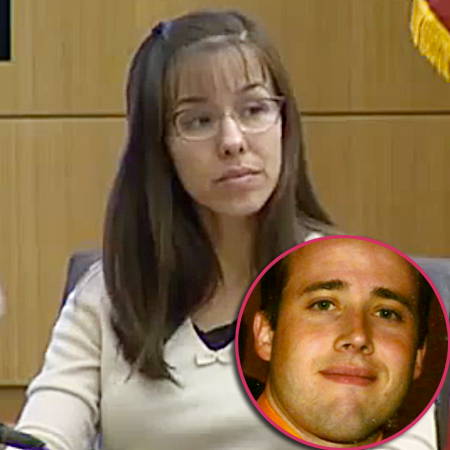 Jodi Arias takes the stand for a fifth day in a Phoenix, Arizona courtroom on Tuesday, one day after her sexually explicit testimony took an even darker turn, as the petite brunette divulged yet more graphic details of her love life with her alleged victim, Travis Alexander, who she claims once kicked her in the hand and broke her finger
In a dramatic move, Jodi's attorney asked her to describe an alleged fight she had with Travis where she claims the motivational speaker knocked her to the ground, kicked her in the ribs and then when she blocked the next kick he broke the ring finger on her left hand.
Article continues below advertisement
Arias testified that during the alleged altercation Alexander was "shaking me saying I'm fu**ing sick of you. He was screaming at me. He body slammed me on the floor at the foot of his bed."
Going on to claim that Travis said to her "don't act like that hurts, he called me a bi*ch and kicked me in the ribs. He went to kick me again, and I put my hand out."
She then held up her left hand in the courtroom showing that her ring finger is crooked. Travis' sister continuously rolled her eyes during Jodi's testimony and shook her head in disbelief.
As RadarOnline.com previously reported, during her first day of testimony on February 4, Arias, 32, admitted to killing her 30-year-old former boyfriend in June 2007, but maintained that she acted in self defense.
"Yes I did," Arias said when asked if she killed him. When questioned why, she claimed, "The simple reason is he attacked me."
youtube
Arias broke down in tears during Monday's testimony and said she tries not to think about the alleged fight because "it's unpleasant."
Article continues below advertisement
She told the jury that she regretted not seeking medical help because she didn't have health insurance, and regretted not talking to the police, saying she was "disgusted" with herself.
In a bid to cement her self defense claim, the pretty brunette has been bombarding the jury with tales of sexual debauchery, manipulation, abuse and perversion. As KPNX-12 News reporter, Chris Williams, previously predicted, Jodi ramped up her sexually graphic testimony even further Monday, claiming she walked in on Travis in his own bedroom pleasuring himself to a picture of a small boy about "five or six years old."
Arias testified that she didn't recognize the boy in the alleged photo but he was wearing "underwear briefs" - claiming she fled the house upon making the alleged shocking discovery, drove frantically to her home and threw up.
youtube
She began crying more at that point, and testified that she was worried for Travis, saying she thought that "people who have problems (molesting children) were hurt when they are children and it made me angry to think of him hurt as a kid, I wanted to talk to him and found out what was wrong, what was going on with him."
Article continues below advertisement
However, Arias claimed that after she returned to Alexander's home they had only a brief discussion before having sex again.
Prior to the bombshell testimony, Jodi had claimed Alexander's sexually abusive demands had increased and that the morning after they had spent the night together praying for chastity, "I woke up and he was on top of me, and had already penetrated and started having sex with me."
Claiming she was "worried about the spiritual consequences," Arias said she wriggled out from under him, but then he became forceful "and started pushing my head and shoulders under the covers. I presume for oral sex. No words were spoke."
Arias admitted that she did not tell Alexander to stop, saying that she didn't want him to be upset with her, "I just wanted him to finish."
She also testified that their bizarre relationship continued to spiral into further dysfunction and mistrust during a trip to visit Mormon historical sites, Niagara Falls and the Rock And Roll Hall of Fame, when she found suspicious text messages and calls on his cell phone and believed he was cheating on her.
Article continues below advertisement
Instead of confronting him on the trip, she testified that she chose to play the dutiful girlfriend because: "Travis was kind of domineering. I was afraid to confront him… I think I was in denial at the time."
Arias said she eventually broke up with him over the phone and they stopped being an official couple on June 29, 2007. However, the break in contact was brief and they reunited again after he allegedly pledged that other women didn't mean anything to him. "I had really low self-esteem," she claimed Alexander told her.
Arias went on to testify about the endless string of fantasies she claims Alexander begged her to indulge in, including sex on her porch, in their car on the side of the freeway, and in his office while wearing his suits.
"I enjoyed making him happy so I was willing to do things he liked to do, and while he did them he paid attention to me, so I got something out of it that regard," she told the court. "Sometimes he was loving and romantic and sometimes it was animalistic.
Article continues below advertisement
"After he was done he was done – he wasn't mean – but he was done being nice," she claimed, adding that she didn't break up with him because, "There wasn't any room in my heart, or my mind or my life" for anyone else.
And, continuing to play the sweet and innocent card, Jodi told the court she was embarrassed by having to talk about their alleged XXX rated sex romps in front of her family, which surprisingly on Monday included her brother and father sitting quietly next to her mother.