Exclusive
Jodi Arias' Alleged Murder Victim Told Friend: 'She's A Nymphomaniac And Super Sex-Crazed'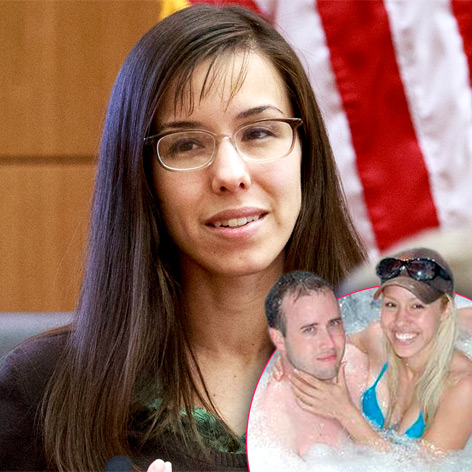 Jodi Arias' graphic testimony and repeated sexual bombshells sent ripples of shock through Maricopa County Court in Phoenix, Arizona last week, and deeply disgusted victim Travis Alexander's family and friends, RadarOnline.com is exclusively reporting.
"She is scary because you know she is lying about something, but you almost think she believes her own lies because she is selling it so effectively," Travis' good friend and former roommate, Taylor Searle, tells RadarOnline.com in an exclusive interview.
Article continues below advertisement
"I don't take anything she say as 100 per cent truth. Her credibility is zero with me, and that's her reputation with me. I look at it through the lens that everything she said up until now has been a fabrication," he says of the serial liar who has changed her story twice about her involvement in Alexander's gruesome death.
As RadarOnline.com has previously reported, during her first day on the stand last Monday, Arias, 32, admitted to killing her former boyfriend, 30-year-old Travis Alexander, a motivational speaker, by shooting him in the face, stabbing him 27 times and slitting his throat from ear to ear in his Mesa, Arizona home in June 2008. She insists she acted in self-defense.
Following three days of defense testimony packed with tales of alleged childhood abuse, cheating boyfriends, and oral sex and intimation from Alexander, Jodi and her attorneys have been doing their best to paint her as the innocent victim, but Taylor is not buying her performance.
"If I was then to assume that everything she says now is factual, then what I think doesn't change at all," he explains. "That Travis is a sexually-energized person and he has his religious beliefs that he is trying to uphold and a temptation that he struggles with - that is pre-marital sex - and Jodi is the vehicle through which he is making this decisions."
Article continues below advertisement
"So I can see that he is trying to introduce her to the church and teach her the Book of Mormon, and share his beliefs with her, but that doesn't mean he doesn't have struggles."
However, "I have a really hard time personally understanding how he can tell her about his religious beliefs, and then in the same breath want to go and have oral sex," said the fellow Mormon. "It is really hard to digest and highly unbelievable, and would mean he was struggling way worse than I thought.
This all assuming that what Jodi is saying on the stand is the truth, which Searle does not believe for a second!
"I imagine she that is taking liberty with her memory so that it creates the narrative that he was a sex-crazed overbearing controlling individual and she was a little flower that he was taking advantage of.
"He always told me she was a nymphomaniac and super sex-crazed, so I am assuming what ever happened it wasn't all him – but that is assuming what she says actually happened!" he exclaimed.
Article continues below advertisement
As for the tales of being beaten with a wooden spoon by her mother and string of dysfunctional relationships before she met Travis, Searle thought that was all aimed to pull at the heart-strings of the jury.
"As she recounted her childhood, what struck me is that she is really doing everything she can to try blame everyone else," Taylor tells Radar. "I am really sorry if her parents were physically abusive to her, and I'm really sorry if she had boyfriends who cheated on her, and I am really sorry if she felt that Travis cheated on her – but nothing is an excuse for what she actually did!
"As long as we don't lose sight of that, but I think that's what she is trying to do by making it not about the fact that she killed Travis but about all her terrible experiences and have them have pity on her."
Taylor didn't like Jodi when he was first introduced to her by Travis when they were dating in 2007, and his feelings haven't changed.
"She is exactly how I remember her. That is why I was always skeptical of her because she doesn't show emotions," he says. "The way she talks on the stand is the way I have always seen her talk, which is scary."
Keep checking back with RadarOnline.com for regular updates and daily live-streaming of the Jodi Arias trial as it continues on Monday.