'You're A Pedophile!' Jodi Arias Screamed At Victim After He Threatened To Expose Her As 'Psycho' During Brutal Fight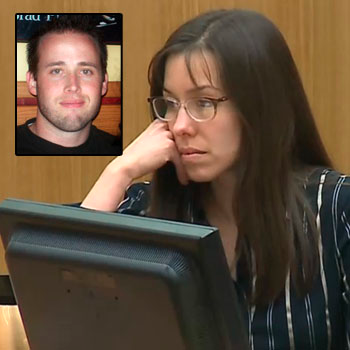 Jodi Arias threatened Travis Alexander that she would tell people he was a pedophile as the ex-couple's relationship devolved into a series of jealous arguments, she testified on Wednesday.
"The only thing I'll be spitting out is the fact that you're a pedophile," Arias says she told Alexander after he allegedly said he would expose all the "psycho" things he did, according to Arizona Republic reporter Michael Kiefer, who is in the Arizona courtroom.
Article continues below advertisement
Arias is facing the death penalty and charged with murdering Alexander, her one-time boyfriend. On Tuesday, an audio tape of a conversation between the defendant and victim, filled with explicit sexual talk, fantasies of rape and porn, shocked the courtroom and pushed the defense's theme that Alexander lived a double life and Arias killed him in self defense.
The pedophile reference Wednesday seemed to connect with part of the audio played Tuesday, where Alexander compared Arias to a 12-year-old girl in describing a certain element of her sexual activity.
Arias, 32, described her stormy relationship with Alexander, which continued after they were no longer officially a couple but still having sex. She described an angry exchange between them on the day she moved from Arizona back to California, with Alexander giving her the middle finger while she drove away.
Why continue an obviously troubled relationship? "I craved the nice from him and dreaded the mean," Arias said.
Article continues below advertisement
The ex couple continued having sex while dating other people. "Old habits die hard," Arias explained, according to the Arizona Republic. She also told jurors that he went into her email account and found correspondence with another man.
Arias described Alexander as violent, and said his actions left her shaking. The most dramatic testimony she offered was recounting Alexander threatening to tell everyone the psycho things she had done. That's when she shot back she would call him a pedophile.
Arias killed Alexander in 2008 and is charged with first degree murder. Before she took the stand Wednesday the defense was denied its request for a mistrial and also for the death penalty option to be taken off the table.