Jodi Arias Trial Rocked By Explicit Phone Sex Tape, Reveals Raunchy Role Play & Jealousy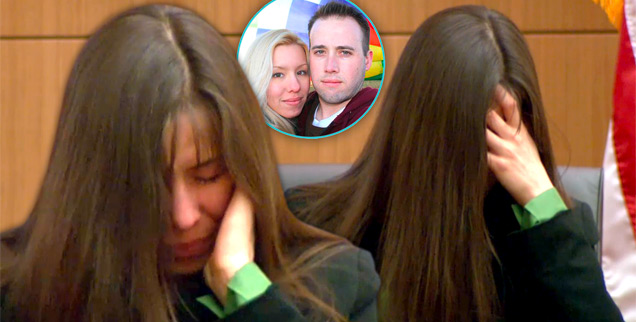 Jodi Arias is on the stand for a sixth day in Phoenix, Arizona Wednesday, one day after the highly anticipated phone sex tape between Arias and her alleged victim, Travis Alexander, was played in court Tuesday, and the graphic, XXX-rated content shocked everyone in the room.
Travis' family members had been pre-warned by Judge Sherry Stephens not to react as the explicit conversation between Alexander and his killer rang out around the Maricopa County Courtroom -- so they sat silently, while Arias repeatedly hid her head in her hands.
Article continues below advertisement
Recorded on May 10, 2008 by Arias, allegedly at Alexander's request, the 40-minute tape marked the first time that the jury had heard Travis' deep, throaty voice as the conversation flipped between his fantasies of graphic sexual acts, small talk criticizing friends, church trips, music, movies, and full circle back to sex again.
In one particularly disturbing portion, Travis compares Jodi to a 12-year-old girl in discussing their sex life. The tape also featured Alexander discussing making a porn movie with Arias, and he describes in detail his plan, which involved tying her to a tree.
The defense is attempting to show Alexander as a man who led a secret double life and pain him as sexually perverse and violent as they try to convince the jury Arias killed him in self defense.
Although they were no longer officially a couple at the time it was recorded, on the tape Travis refers to Jodi as "his girlfriend" and expresses how he was going "to beat down" an acquaintance who he thought had hit on her. Arias' appears eager to turn the conversation back to sex though, telling Alexander, "I love it when you grab my butt."
Article continues below advertisement
The late devout Mormon quickly picks up on the sexually-charged change of direction the conversation is going in, replying, "Your butt has gotten more attention than any woman's on the face of the world… If they had an 'ass of the planet' award it would win."
The conversation also had reference to rape and porn, as ABC reported.
Things begin to heat up even further between the on-again-off-again couple, with Travis bragging about their two and three hour sex sessions, and Jodi complimenting his stamina and comparing their raunchy hook-ups to "an all-you-can-eat salad bar."
"I like that you play whatever role you need to play," Alexander tells Arias, before revealing that he wants to tie her to a tree and commit intrusive sexual acts on her. "Oh my gosh, that is so debasing, I like it," Arias answered, ABC reported.
Despite her suspicions at the time that he was seeing other women, when Travis compliments Jodi she purrs like a kitten in response.
"You are very photogenic, you are very pretty. You are so attractive. I have never seen you look bad in my life," he flatters her at one point, adding, "There are time when you've looked miserable and I've still, like, raped you."
Article continues below advertisement
As the XXX-rated recording continues to even greater extremes, Travis calls Jodi "dirty" and "the prototype of sluttiness" and tells her she looks like a porn star.
"We're going to get all these great pictures and a quality camera, and it will be legitimate porn," he says.
The graphic conversation occurred less than a month before Jodi killed Travis by shooting him in the face, stabbing him 27 times and slitting his throat, which she claims was in self defense. The sexually charged content of the call was a sharp contrast to the vow of chastity that strict Mormons are asked to adhere too — and Arias' defense team is sure to hope it will help cement in the jury's minds the image of Alexander as a sexual deviant, predator and forceful instigator of kinky acts.
After the recording ended, Jodi returned to the stand and immediately claimed that the passionate orgasm noises she made on the phone were faked.
She then went on to testify that Alexander got increasingly sexually aggressive with her as time progressed.
"He would turn into Mr. Hyde," she said, according to Arizona Republic reporter Michael Kieffer.
Keep checking back with RadarOnline.com for regular updates and daily live-streaming of the Jodi Arias trial as it continues.