Crime (Writing) Really Does Pay! Patricia Cornwell Lawsuit Reveals Ridiculously Lavish Million Dollar Lifestyle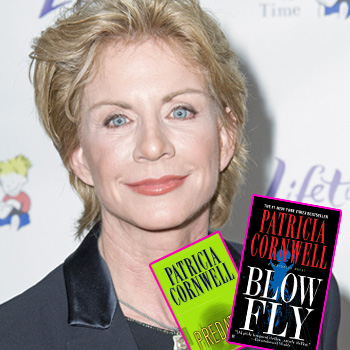 Novelist Patricia Cornwell has spent the past two decades luring readers into the dark world of murder and deceit in her best-selling crime novels, and now evidence of her own secret life has been revealed thanks to a lawsuit against her former financial management firm and business manager.
Citing negligence and breach of contract, the writer, who created the iconic medical examiner character Dr. Kay Scarpetta, claims the accounting firm and its former principal, Evan Snapper, cost her and her company millions in investment losses and unaccounted for revenues, reported the Telegraph.co.uk.
Article continues below advertisement
However, the Boston based trial is backfiring on intensely private Patricia, as it has forced open the door of her own personal spending habits and revealed a lavish lifestyle that includes spending $40,000 a month for an apartment in New York City, $5 million for a private jet service, and $11 million to buy properties in Concord, Massachusetts.
Cornwell's wife, Staci Gruber, took the stand to testify about the couple's relationship with New York based firm Anchin, Block & Anchin LLP last week. Gruber claimed they fired the company in July 2009 for mismanaging their money, alleging the firm borrowed several million dollars from Cornwell, including mortgages for property and a loan for the purchase of a helicopter, and had lost millions by moving the funds from a conservative to a high-risk investment strategy without their permission.
She also testified that she allegedly found checks written for expenses she never authorized, including a mystery $5,000 check for a bat mitzvah gift from Cornwell to Snapper's daughter.
The 56-year-old novelist claims the stress of the tumultuous business relationship caused her to miss a book deadline for the first time in her career and cost her $15 million in non-recoverable advances and commissions.
Article continues below advertisement
However, Anchin and Snapper contend that there is no money missing from Cornwell's accounts, and that the couple simply blew it all themselves.
"Where did the money go? Ms. Cornwell and Dr. Gruber spent the money," said attorney James Campbell. "You have to consider the large lifestyles involved, the spending habits, impulsive buying."
The writer, who has sold more than 100 million copies worldwide of bestsellers including Postportem, Body Of Evidence and Book of the Dead, has been open about her struggle with bipolar disorder, which she said has contributed to her belief that she needs other people to manage her business affairs and investments.