Exclusive
HBO Sued Over Cruelty And Alleged Horse Death Cover Ups On 'Luck'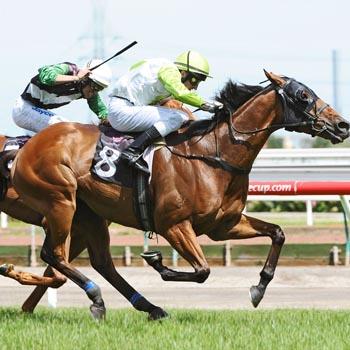 By Debbie Emery - RadarOnline.com Reporter
After being accused of murdering horses on the set of their show Luck, HBO quickly canceled the racing drama in March, but the alleged atrocities are not dead and buried for the network.
Barbara Casey, who worked as the director of production in the American Humane Association's film and television unit, has filed a lawsuit against her former employer and HBO, claiming wrongful termination and accusing the network and producer Stewart Productions of aiding and abetting an alleged abuse coverup, reported the Hollywood Reporter.
Article continues below advertisement
According to the lawsuit filed in Los Angeles Superior Court, Casey says the AHA observed drugged horses, underweight and/or sick horses routinely used for work on the show, and the misidentification of horses by producers so that animal safety reps couldn't track their medical histories.
The 13-year veteran of the AHA claimed that both HBO and Stewart Productions wanted to save time and money and pressured the animal protection organization to allow them to violate the AHA's safety standards.
As RadarOnline.com previously reported, three horses died (with a fourth death suspected) on the set of the Dustin Hoffman drama that was filmed at the Santa Anita, Calif. racetrack.
"This lawsuit shows that the days when animals could be abused and killed behind the closed doors of the film and television industry are over. If you harm an animal in Hollywood, PETA is going to find out," PETA spokesperson Wendy Wegner tells RadarOnline.com in an exclusive interview.
Article continues below advertisement
PETA had initially demanded an investigation in February 2012 after the first deaths were brought to light, when they accused HBO of "putting old, unfit horses on a track" resulting in their murder.
"AHA bowed to political and financial pressure and refused to report the Production Defendants' conduct to the authorities," Casey claims in the suit. "AHA instructed Plaintiff not to report such conduct. AHA engaged in efforts to conceal and cover up the production defendants' criminal activities.
"The production defendants intentionally misidentified horses so that the humane officers and/or animal safety representatives could not track their medical histories," the lawsuit alleged.
Casey even accuses the AHA of going as far as to cover up the death of a horse named Hometrader by telling its representatives not to document the thoroughbred fatality because he was killed during the summer hiatus and not while filming. She states that it was unlawful to terminate her and retaliate against her for an attempt to report criminal activity.
Article continues below advertisement
The Hobbit Director Peter Jackson Claims Allegations Of Animal Abuse Are 'Unsubstantiated'