Dog Plucked From Icy Peril In Daring Lake Erie Rescue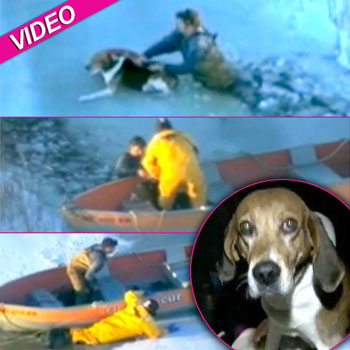 By Debbie Emery - RadarOnline.com Reporter
A frigid drama had a heart-warming ending when a man and his dog were plucked from the icy depths of a frozen lake in a daring rescue.
Jim Swayze was walking his 11-year-old dog, Bart, near their Brownstown Township, Michigan, home on Thursday when the adventurous Walker Hound wandered off and plummeted through the thin ice into Lake Erie.
"I kept my eyes off of him just for a second. I tried to walk around to him and it was just too deep and I couldn't get to him," said Swayze, reported WCSH6.com.
Article continues below advertisement
Waist-deep in the frozen water, the worried owner first called 911 and then rang his cousin for help, who hurried to the save the soggy pair despite risking his own life by stepping carefully across the ice. "It broke and I fell in and I was probably about 3 and half feet deep," explained Lance Eicher.
When he finally reached Bart, the shivering pooch had already spent 90 minutes in the water, so Eicher hugged him close to his body to keep him warm until rescue crews arrived and dragged a boat over ice and hauled them both inside.