Exclusive
Sick Dog Cradled By Owner In Iconic Photo 'Doing Great' & 'Getting Frisky In The Snow!'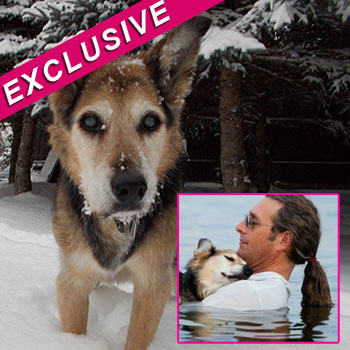 By Debbie Emery - Radar Reporter
The old dog that won the hearts of animal lovers across the country through a touching photo of his owner cradling him in Lake Superior has taken healthy bounds forward, thanks to the donations of well-wishers.
"Schoep has always loved winter and snow and, he is doing great. Now that it's cooler, he is frisky. He is responding phenomenally to his treatment," spokesperson Julie McGarvie told RadarOnline.com in an exclusive interview.
Article continues below advertisement
As RadarOnline.com previously reported, Wisconsin native, John Unger adopted his dog, Schoep, when he was just a puppy, but after 19 years together the shepherd mix is suffering from arthritis and has trouble sleeping, so the inseparable pair last summer headed to nearby Lake Superior so he can be lulled to sleep by the water.
The heartwarming image of the bond between man and dog was captured by close friend and photographer Hannah Stonehouse Hudson, owner of Stonehouse Photography, who snapped the picture in a last minute session that captured the magical moment.
While it is far too cold for their daily water sessions there now, Schoep is having a blast playing in the snow this holiday season thanks to the life-saving laser treatments that have successfully combated the aging affects of arthritis with his best friend.
"John is spending all his time taking care of his dog and he doesn't leave him, he is very attentive," explained McGarvie. "He's doing really well and seems to be loving the snow, but he doesn't travel around town anymore because the roads aren't very good in the winter."
Article continues below advertisement
Floods of donations totaling over $40,000 came in for the ailing dog after the photo went viral, and now the team are putting the excess donations to good use for the sake of less fortunate pets.
"We started Schoep's Legacy Foundation to work with other shelters to pay back the community both regionally and locally and help place dogs and get them medical procedures and treatments for themselves," Hudson told Radar.
"Schoep was more than well taken care of in terms of donations so there was a lot of money left over and they stopped taking donations for Schoep himself and took them for the foundation instead.
"I was shocked at first about how much money people were giving to Schoep, but after I realized that I was no longer surprised by the support we got for the Foundation. People were looking so hard for something positive to be a part of that I thought it was amazing."
Article continues below advertisement