Kim Kardashian On Kitten's Death: 'My Heart Is Completely Broken'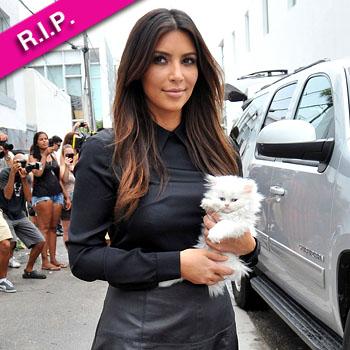 Kim Kardashian's kitten Mercy, given to her by boyfriend Kanye West, has died of a cancer-like virus often associated with breeding.
"It is with deep sadness that I have to tell you all that my kitten, Mercy, has passed away. My heart is completely broken," Kim wrote on her blog in announcing the sad news. And the star tweeted on Saturday, "Rest in peace my little Mercy."
Kim had named the adorable white Persian teacup cat after the title of a hit Kayne song. But sadly, soon after getting Mercy from the breeder in September, Kim found out she was allergic to her new pet and gave her to sister Khloé Kardashian Odom's assistant, Sydney Hitchcock (who had recently lost her own cat).
Article continues below advertisement
All was well until Nov. 26, when the kitten went limp and then Hitchcock and her boyfriend rushed Mercy to an animal hospital. After learning a fatal virus had attacked the kitten's stomach and there was no hope, Mercy's owner had her euthanized. The kitty was only four months old.
"Thanks to Sydney for making Mercy's short life one filled with love," wrote Kim, who, as RadarOnline.com reported, had a rough weekend as protesters in Bahrain protested her being in the country to open a Millions of Milkshakes store.