Hounds Hit The High Road! You Will Not Believe These Amazing Driving Dogs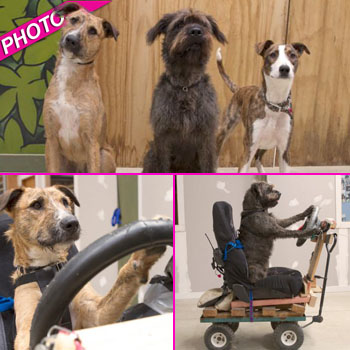 Article continues below advertisement
"Sometimes people think because they're getting an animal that's been abandoned, that somehow it's a second-class animal," SPCA Aukland CEO Christine Kalin told the New Zealand Herald. "Driving a car actively demonstrates to potential rescue dog adopters that you can teach an old dog new tricks."
All of the zippy drivers are shelter dogs and their nippy road skills are thanks to diligent lessons from trainer Mark Vette, who has worked with everything from pukeko to deer, and has even trained rats, but claims that, "No animal has ever driven before."
Three dogs were chosen for the impressive feat: Monty, an 18-month-old giant schnauzer who was given to the SPCA by an owner who was unable to control him; Ginny, a one-year-old whippet cross who was rescued from abusive owners; and Porter, a 10-month-old beardie cross found roaming the streets.
The adventurous animals went through several weeks of serious training before hitting the pavement in a real car that was modified to accommodate the unique needs of a canine driver (such as having four legs instead of two!).
Article continues below advertisement
So far, the animals have driven only with some human guidance, in the form of verbal commands and the occasional steering wheel readjustment but next week star pupil Porter will take a Mini Countryman for a spin on a closed track completely unassisted.
"The way all three SPCA rescue dogs have taken to training really does prove that intelligent creatures adapt to the situation they're in," explained Vette, adding that changing behaviors is the secret to success. "It really is remarkable."