Miley Cyrus Devastated Over Beloved Dog's Death, 'I Have Never Been So Hurt In My Life'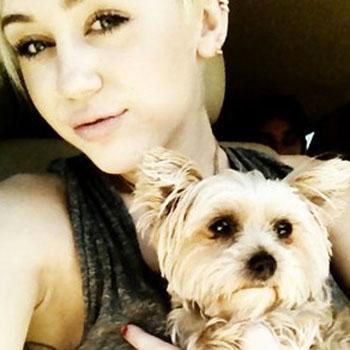 It's a sad week for celebrity pets. Just days after Kim Kardashian announced the death of her beautiful little kitten, Mercy, Miley Cyrus is mourning the passing of her adorable dog Lila.
The pop princess took to Twitter on Tuesday to tell fans about the loss of the Yorkshire Terrier mix, one of her six pooches.
"For everyone asking…I have never been so hurt in my life," the 20-year-old wrote. "My heart has never been so broken…Lila my sweet baby girl has passed away."
Article continues below advertisement
She added: "Broken. Gonna go MIA for a bit. Need some healing time. Thank you to everyone who has sent love my way. I need it."
Earlier, Cyrus admitted that she was so upset she couldn't "think of one good reason to get out of bed today."
She has yet to announce the cause of her dog's death.
In October the singer begged for fans to pray for ailing two-year-old Lila. She tweeted: "Please pray for my baby girl Lila. She is in the hospital. I am so heart broken.
"Please send out vibes for her to not be afraid & to heal."
The former Disney star frequently tweets photos of her pet dogs who she calls her "babies." Her brood includes Floyd, Ziggy, Happy, Mary Jane and Penny Lane – a puppy that she adopted from a rescue shelter last month.
As RadarOnline.com previously reported, Kardashian has been mourning the loss of Mercy – the white kitten that boyfriend Kanye West bought for her.
Article continues below advertisement
On Friday she wrote on her blog: "It is with deep sadness that I have to tell you all that my kitten, Mercy, has passed away.
"My heart is completely broken."
RELATED STORIES:
From Disney to Dominatrix? Miley Cyrus Busts Out In Concert Fashion Flop
Happy 20th Birthday Miley Cyrus! See Her Transformation From Disney Star To Controversial Young Adult
Cut Above The Rest! Liam Hemsworth Is Behind Miley Cyrus' Edgy New Look
Rockin' New 'Do? Miley Cyrus Shows Off Chopped, Bleached Hair