Til Death Do Us Part, TV Weatherman's Ashes Buried In Pet Cemetery Next To His Dog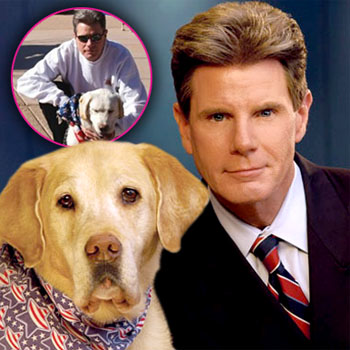 By Debbie Emery - RadarOnline.com Reporter
A golden Labrador is going to be man's best friend throughout the afterlife thanks to an unusual funeral agreement.
A former Las Vegas weatherman who died earlier this month will be reunited with his most loyal companion, Jordan, when his ashes are placed in a pet cemetery this weekend.
John Fredericks, 57, was diagnosed with cirrhosis in June following a long battle with alcoholism, and died in a hospice on November 23, reported the Las Vegas Review Journal.
Article continues below advertisement
A spokesperson for the family has now revealed that Fredericks' ashes will be placed next to where Jordan is buried at Craig Road Pet Cemetery.
John and Jordan moved to Las Vegas in the mid-1990s to work as a team on the morning show, but the popular meteorologist was forced to leave KVBC-TV, Channel 3 (now KSNV), four years ago after a dispute with the station that stemmed from the Lab being taken off the air following an alleged biting incident.
"He led a tortured life," said former co-worker and close friend KSNV morning show co-host Dana Wagner. "He was orphaned by 18," Wagner said. "The people he loved left him. The only living thing he could really count on was Jordan."
Known as a champion among animals and a dedicated dog-lover, Fredericks is especially mourned by the pet community and a memorial fund has been set up at Nevada State Bank to help cover funeral costs.