U.S. Airman Overwhelmed By His Dogs On Homecoming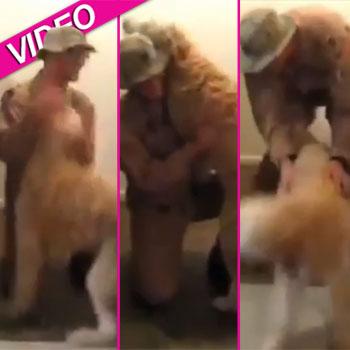 A U.S. Airman gave his two dogs a very happy Thanksgiving by getting home from his first deployment just before the big holiday.
"My husband and I decided to get a Golden Doodle puppy earlier in the year. When my husband left, the puppy was only 4 months old. Being newly married, this would also be the first deployment experience for our 7 year old Beagle as well. We decided to record the response upon my husband's return home to see if the dogs would remember him!," the military man's wife wrote on Welcome Home Blog.
Article continues below advertisement
The Airman, who had been gone for several months, was overwhelmed by the response and couldn't stop laughing. And that four-month-old puppy? Not so little any more!
Welcome Home Blog has become the number one site for sharing videos of vets and their surprise homecoming reunions.
Happy Thanksgiving to all our military families!