PETA Calls For Federal Investigation Into Conrad Murray Propofol Study On Beagle Dogs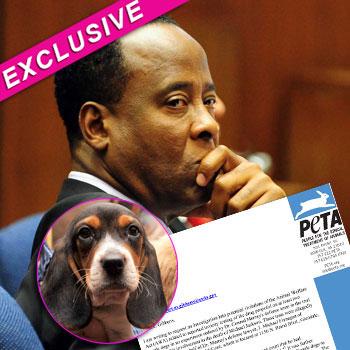 Article continues below advertisement
"I cannot imagine any use for this information at all," PETA's Vice President of Laboratory Kathy Guillermo exclusively told RadarOnline.com. "These tests cause enormous suffering in animals."
PETA (the People for the Ethical Treatment of Animals organization), filed a complaint with the U.S. Department of Agriculture (USDA) on Monday alleging "cruel drug toxicity tests on beagles commissioned by the defense team of Dr. Conrad Murray, the physician now on trial for his alleged role in Michael Jackson's death.
"PETA asserts that if attorneys from Flanagan, Unger, Grover & McCool did commission the tests for the drug propofol - the toxic effects of which have been extensively studied in dogs and humans - those tests were likely conducted in violation of the federal Animal Welfare Act's prohibition against tests on animals that duplicate previous experiments. PETA has filed a complaint with the State Bar of California as well."
Article continues below advertisement
Read PETA's Letter To The USDA
The animal rights organization is also requesting that the California State Bar investigate "how and why these cruel and archaic tests on beagles were allowed and, should violations of the law be found, to punish those responsible."
Whether or not the dogs died during the tests that Dr. Murray's team conducted is unclear, but PETA says the tests torture the innocent animals.
Read PETA's Complaint To The California Bar
"In toxicology tests, large doses of chemicals are pumped into dogs' bodies, slowly poisoning them. Substantial data are publicly available about the oral toxicity of propofol in dogs and other animals, and propofol toxicity and propofol infusion syndrome have been extensively studied in humans. PETA is calling on the USDA to also investigate whether the tests reportedly commissioned by Dr. Murray's defense team were conducted at a registered facility and whether they were properly reviewed and approved by an Institutional Animal Care and Use Committee."
Article continues below advertisement
As PETA previously told RadarOnline.com, "This would have greatly upset Michael, who was known to be a huge animal lover. This was obviously a cruel attempt to drag out this trial and confuse the jurors, adding more victims to the death toll in this sad case."
Guillermo added: "If we find evidence that the testing occurred the USDA will cite the lab, but nothing is going to bring the dogs back."
Dr. Conard Murry's trial will continue on Wednesday and you can watch it live, right here, on RadarOnline.com.