Exclusive
Prosecution May Call Prince To Testify In Trial Of Dr. Conrad Murray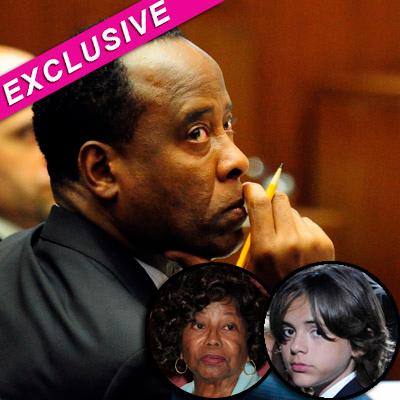 Deputy District Attorney David Walgren met recently with Michael Jackson's oldest son Prince and Katherine Jackson to discuss the possibility of the King of Pop's son being called to testify at the involuntary manslaughter trial of Dr. Conrad Murray.
The top secret meeting was held at Katherine's gated Calabasas residence. "Walgren met with Prince and Katherine Jackson to discuss Prince taking the stand. Katherine wants to ensure that Prince will be protected as much as possible," a Jackson family insider told RadarOnline.com.
Article continues below advertisement
"Even though she is steadfastly against Prince testifying, she recognizes this is something that he very much wants to do. Remember, from testimony heard so far, when he discovered Michael Jackson wasn't breathing Murray told the chef to send Prince up to the bedroom. Dr. Murray brought Prince into this. Prince has information that is clearly relevant to the proceedings. Make no mistake, Prince would have been called as a witness already if he was an adult."
Prince would be called as a rebuttal witness by the prosecution, and that decision will be made by the District Attorney after the defense presents their case. "Prince does have information that would be helpful for the jury to hear. However, it's a double-edged sword of putting a child in this case on the stand. This could be very traumatic and Prince, despite all assurances that he can handle it, well, you never know until it actually happens," the source says." How would he do under cross examination from Dr. Murray's lawyers? How will he react to seeing Dr. Murray in court? The last time Prince saw Dr. Murray was the day his dad died, and a lot has changed in his world since then."
Article continues below advertisement
Prince and Katherine were told by the Deputy D.A., "there is a 50/50 chance that he will take the stand. Prince will be prepared if called to testify. Katherine and Prince trust the Deputy D.A., and Katherine knows that this is very, very important to her grandson, so in the end, she will not stand in the way of him doing this," the insider says.
Testimony will resume on Wednesday, October 19, with the prosecution's final witness, Dr. Steven Shafer, taking the stand once again.