Katherine Jackson Says Dr. Murray Is A Liar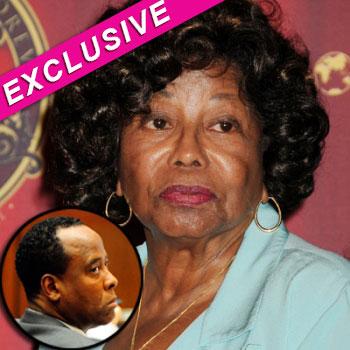 Katherine Jackson is "livid" that Dr. Conrad Murray told cops two days after her beloved son, Michael Jackson died, that he provided solace to her and the singer's three children after the tragic death.
In fact, far from it, says the Jackson family matriarch, who claims that the embattled cardiologist made the whole thing up, RadarOnline.com is exclusively reporting.
Katherine Jackson called Deputy District Attorney David Walgren on Monday night, and told him that she was outraged that Dr. Murray made up such a preposterous tale.
Article continues below advertisement
"Katherine was almost beside herself with anger after she heard Dr. Murray telling cops that he comforted her and the grandchildren after her son was declared dead. it just never happened, Dr. Murray made the whole thing up. She is disgusted and outraged at Dr. Murray for even daring to suggest that he was there for her," a Jackson family insider tells RadarOnline.com.
Katherine Jackson's nephew, Trent Jackson told CNN's Alan Duke, that Michael's oldest son, Prince also says Dr. Murray never even spoke to the children.
According to Trent, the children were kept in an SUV outside of the UCLA Ronald Reagan Medical Center and it was Michael's manger, Frank DiLeo that escorted the children into the emergency room after their grandmother arrived.
According to the official interview that Murray did with cops:
Dr. Murray: So we -- they brought her into a room down the hall. And I went in there with the emergency room physician who was treating him, whom I was with all the time through his code, and they broke the news to Mrs. Jackson. So the doctor started to tell that, you know her son came in and he was having difficulty breathing and they tried everything. And she said, "well how is he? He's not dead is he?" and the doctor said "yes," and she broke down. It was very -- and weeping. We stayed there, held her hand."
Article continues below advertisement
Dr. Murray then talked about how he went to another room where Jackson's three children were, and told them their father had died.
Transcript from the interview:
Dr. Murray: They asked questions, and the children found out that daddy wasn't doing well, that he had passed away. And then they were weeping, really weeping...after they cried and cried and then his daughter uttered a lot of words of unhappiness, and you know she will live alone without her dad and she didn't want to be an orphan...She cried and was very stark. And then she asked to see him. And then that was another thing. How do you let children see him? I asked them to prepare Mr. Jackson's body, make it as presentable as possible, because I recommended an autopsy be performed, so that the children would be able to view their daddy and have them say good-bye to him at this time."
The source says that when Katherine apprised Prince of what had happened in court on Monday, he was more steadfast and determined than ever to take the stand for the prosecution.
"Katherine tells Michael's two oldest children, Prince and Paris what has happened in court everyday. Blanket is just too young to comprehend it, and doesn't ask questions. Prince was mortified when Katherine apprised him of what happened," the Jackson insider told RadarOnline.com. "He is begging his grandmother to let him take the stand. The decision will be up to David Walgren though.
Article continues below advertisement
"Right now, its a 50/50 chance that Prince could take the stand. Prince doesn't want the jurors to feel sympathy for Dr. Murray, and felt that was the reason he made up the entire story about what happened at the hospital. The DA will assess the need to put Prince on the stand, after the defense rests it's case."
Testimony will resume in the trial on Monday. If convicted of involuntary manslaughter, Dr. Murray could face up to four years in state prison.