Exclusive
Bloody Shirt Found Inside Michael Jackson's Bedroom & Other Shocking Evidence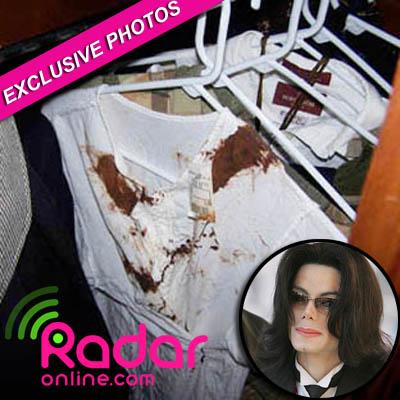 Senior RadarOnline.com Reporter
As the prosecution continues to present its case in the trial of Dr. Conrad Murray, RadarOnline.com has exclusive photos taken from Michael Jackson's bedroom where he died on June 25, 2009.
The chilling photos, which RadarOnline.com originally published on August 6, 2009, just weeks after Jackson's death, paint an appalling portrait of the disarray the house was in on the King of Pop's last day.
Article continues below advertisement
One shocking photo shows a bloody shirt hanging in Michael's closet. Surprisingly, the shirt has a price tag still attached to it, suggesting that the shirt was never worn, and perhaps was used to wipe up blood. If that is the case, the big question is -- why didn't investigators remove it from the scene as evidence into the probe into the pop icon's death?
In the same closet where the bloodied shirt was found, Dr. Murray had allegedly stored large amounts of the powerful anesthetic Propofol along with I.V. equipment.
Other photos show the bed where Dr. Murray tried to revive Jackson, which prosecutors claim he did with only one hand on the soft bed instead of on the floor in what would have been a better location. In the bedroom, where Michael spent his last hours alive, chairs were gathered on one side of the room. They were likely pushed out of the way during the desperate attempt to save his life.
RadarOnline.com has also obtained pictures of the kitchen, Jackson's bathroom, and the living areas of the Holmby Hills, California mansion, which Jackson was renting.
Article continues below advertisement