Exclusive
Black Eyed Peas Pull Out Of Michael Jackson Tribute Concert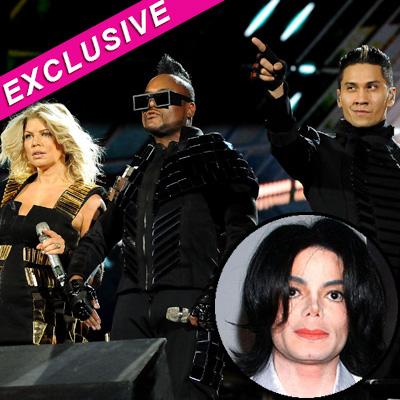 Senior Executive Editor, Star
The Michael Jackson tribute concert in Wales is in disarray after the headline act — The Black Eyed Peas — withdrew from the event at the eleventh hour after a feud with organizers, RadarOnline.com has exclusively learned.
A source close to the event confirmed: "The band advised on Tuesday that they would not be performing and returned the deposit they were paid. Everyone involved in the event is in shock."
Article continues below advertisement
There has been no official announcement from the band, but event organizers confirmed the news to RadarOnline.com saying, "It was confirmed yesterday and no reason, sadly. Everyone else is rehearsing and it looks amazing."
It's a dramatic blow just three days out from the "Michael Forever" show at Cardiff's Millennium Stadium, which is scheduled to take place during the trial of the Conrad Murray, the doctor accused of causing the King of Pop's death.
Christina Aguilera, Smokey Robinson and Cee Lo Green are left as the remaining draw cards for the show which is not affiliated with Jackson's estate, though his mother Katherine and other relatives are scheduled to attend.
According to a production source, six-time Grammy Award winners The Black Eyed Peas clashed with organizers over two pivotal issues: the rights to some of Jackson's legendary songs and the use of the band's content on the social networking site Facebook.
Article continues below advertisement
"There were major issues. The Peas have been duking it out with organizers since the Facebook deal was announced," the insider told RadarOnline.com.
It was announced last weekend that "Michael Forever" will be the first pay-per-view show ever shown on Facebook, ensuring it would be broadcast to a live global audience.
In September, the Peas' front man Will.i.am — who worked with Jackson before the pop star's death in 2009 — said, "We all owe Michael such a lot."
At the time he said Jackson's songs "have been an inspiration to my whole life and certainly formed the soundtrack to my childhood."
It's not the first controversy to plague the concert, though; organizers previously rescinded an offer to the band Kiss over singer Gene Simmons' past criticism of Jackson's alleged child molestation.
What's more, while matriarch Katherine, Marlon, Tito, Jackie and La Toya Jackson were on hand to launch the event, brothers Jermaine and Randy -- along with Janet -- have objected to the timing of the concert.
Article continues below advertisement
"While we wholeheartedly support the spirit of a tribute that honors our brother, we find it impossible to support an event that is due to take place during the criminal trial of the doctor accused in Jackson's death," the two said in a statement.
Added Janet, "Because of the trial, the timing of this tribute to our brother would be too difficult for me."
RELATED STORIES:
Paramedic Testifies Michael Jackson Could Have Been Saved If 9-1-1 Was Called Sooner