Paramedic Testifies Michael Jackson Could Have Been Saved If 9-1-1 Was Called Sooner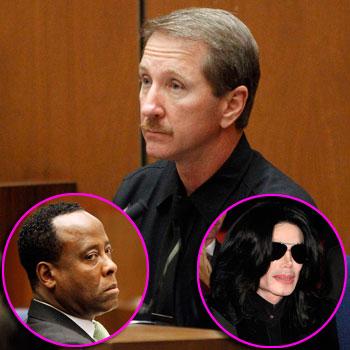 In stunning testimony Friday a paramedic claimed that he could of saved Michael Jackson's life, if Dr. Conrad Murray had called 9-1-1 immediately after discovering the singer's lifeless body.
Richard Senneff, who was the first paramedic on the scene, testified that Murray claimed to have called emergency services as soon as he discovered Jackson, but the prosecution maintain that there was a twenty minute delay before Murray made the call.
Article continues below advertisement
Senneff said that Jackson was "flatlined" and appeared dead when rescuers arrived at his house on the day of his death, on June 25, 2009. He also said that at no time during the 42 minutes he was with him did he see any signs of life in the 50-year-old star.
The paramedic also told the Los Angeles courtroom how Murray told responders he had only given Michael a dose of lorazepam to help him sleep and that he was treating him for dehydration and exhaustion. He never mentioned the surgical anaesthetic Propofol, which was found to have killed Michael.
When Senneff asked Murray how long Michael "was down", he told him: "It just happened right when I called you."
However, earlier testimonies have claimed the emergency call was not placed for at least 15 minutes after Murray discovered Michael was not breathing.
Senneff said Murray's story did not add up because Michael appeared dead when they arrived.
He added: "When I first moved the patient, his skin was very cool to the touch, his eyes were open, they were dry and his pupils were dilated. When I hooked up the EKG machine, it was flatlined."
MORE ON:
Celebrity Justice
Article continues below advertisement
Emergency room personnel at a nearby hospital advised Senneff to declare Michael dead in his bedroom, but the singer was transported because Murray wanted life-saving efforts to continue.
During another testimony, it was claimed Murray was on the phone to another patient minutes before discovering Michael had stopped breathing.
Jurors heard a voicemail Murray left for one of his heart patients at 11:49am on June 25, 2009 - seven minutes before he says he found Michael unresponsive in his bedroom.
Las Vegas salesman Robert Russell told the court how Murray had left him a voicemail after he phoned him because he was upset his follow-up appointment with the medic had been cancelled.
Murray is standing trial for involuntary manslaughter and has been accused of administering the lethal dose of the Propofol that killed Michael. If found guilty, Murray faces four years in jail.
RELATED STORIES: