Conrad Murray Trial Recap: Chef Was Told By Dr. Murray To Get Prince; Not Call 911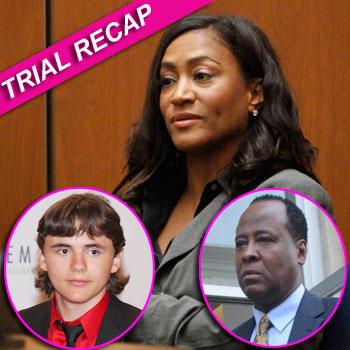 By Jen Heger - RadarOnline.com Legal Editor
Kai Chase, Michael Jackson's personal chef took the stand Thursday to testify in the Dr. Conrad Murray involuntary manslaughter trial. Recalling what happened in the moments after Jackson's lifeless body was discovered laying on his bed, Chase testified that Murray ordered her to find Jackson's oldest son, Prince and send him to his father's room — but never once mentioned calling 9-1-1.
Article continues below advertisement
Chase recounted that she was preparing lunch for Jackson and his three children on June 25, 2009, when she says Dr. Murray came down the kitchen stairs shortly after 12:05 p.m., and told her: "Get help, get Prince, get security."
Chase said she went into the den and got Prince, and told him: "Hurry, Dr. Murray needs you, there may be something wrong with your father."
After the paramedics arrived, Chase says she and the children made a circle in the foyer and began to pray for Jackson. After Michael was loaded into the ambulance, the chef was told to leave the premises immediately by a member of the security team.
The chef said that she started working for Jackson in March 2009, and that "it was a very happy home to work in."
The only other witness to testify on Thursday was Alberto Alvarez, a member of Michael Jackson's security team. Alvarez told jurors that after Jackson's body was discovered he helped Murray put bottles of Propofol in bags before he called 911, because Dr. Murray asked him to do so.
Court is in recess until 8:45 on Friday morning.