Former Michael Jackson Attorney Predicts Jury Could Hang In Dr. Conrad Murray Trial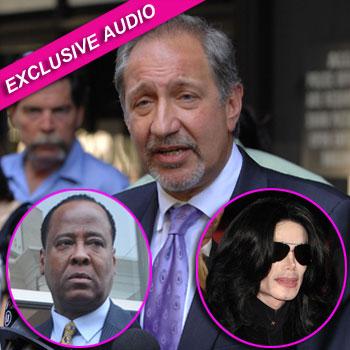 By Jen Heger - RadarOnline.com Legal Editor
Michael Jackson's former attorney, Mark Geragos revealed on RadarOnline.com Live that he thinks that the Dr. Conrad Murray involuntary manslaughter case could end in a hung jury.
"I think right now it's still early, but it looks to me like it's a hung a jury, the demographics and ethnicity of the jury, looks to me like it's a hung," Geragos told RadarOnline.com.
As previously reported, Jackson's two oldest children, Prince and Paris want to testify against Dr. Murray. The famed attorney tells us that Dr. Murray's lawyer, Ed Chernoff must be very careful in questioning the children of the King of Pop.
Article continues below advertisement
"It's a mine field to call either one of them...you have got to ask the questions, you can't let those kids get up there and just testify, you would have to ask the questions, but you have to do it as gingerly as you possibly could, I'm telling you both of those kids are precocious....those kids are impressive kids," Geragos said.
Geragos recalled the infamous day during a pre-trial hearing for Michael Jackson's 2005 molestation case, when Michael jumped onto the roof of an SUV in his motorcade, "My initial and lasting reaction was geez, I wish I was in as good as shape as he is at this age was to jump in one fell swoop onto the top of the roof. My second reaction was Judge Melville was going to kill me."