Exclusive
Michael Jackson's Kids Prince & Paris Want To Testify In Manslaughter Trial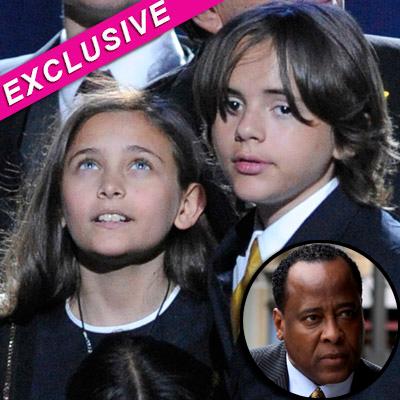 Michael Jackson's two eldest children, Prince Michael and Paris, have told their grandmother Katherine they want to testify in the manslaughter trial of the doctor accused of killing the pop superstar with an overdose of a powerful anesthetic, RadarOnline.com has exclusively learned.
A Jackson family insider said: "Katherine is resisting the move, because she knows how traumatic it would be for them, but both Prince Michael and Paris have said they want to tell the jury what they saw on the day their father died."
Article continues below advertisement
RadarOnline.com has learned the King of Pop's sister LaToya has privately declared her support of the children's stance to take the witness stand against Dr. Conrad Murray.
Murray is charged with involuntary manslaughter in the Thriller singer's death on June 25, 2009, at age 50.
"Both LaToya and Katherine agree, however, that Blanket should not testify as he is too young," the source said.
"Prince and Paris are determined to take the stand, though. Ultimately, I don't believe Katherine will deny them that chance, even though she doesn't want them to and has told them so. The kids have said they don't want their father's legacy to be tarnished by the trial and they believe their evidence will help convict Doctor Murray.
"LaToya has said it would be good for the children to, 'Get what is inside them, out of them.' She feels it is a way for them to release the hurt. Above all though, she believes her brother was murdered and what Prince Michael and Paris could tell the jury, would inevitably help convict the doctor."
A second source close to the legal proceedings confirmed to RadarOnline.com they too had been told Prince Michael and Paris wanted to testify, but predicted only one of them would be called -- and only if "things were going bad" in the trial for prosecutors.
Article continues below advertisement
Prince Michael, Paris and Blanket were all included on a potential witness list passed out to the jurors in an attempt to ascertain their familiarity with the family. Also listed were siblings Janet, LaToya, Jermaine, Marlon, Rebbie, Tito and Randy as well as parents Katherine and Joe Jackson.
Jermaine Jackson On Joe's Discipline, Plan To Smuggle Michael To Mid East & More
If the teenage star witnesses were called, it could be problematic for prosecutors, who have said Murray caused Jackson's death by giving him the powerful anesthetic propofol as a sleep aid at the singer's Los Angeles mansion and not properly monitoring him.
As the source close to the Jackson clan has said: "Prince and Paris adored Doctor Murray and thought he was a God send for their father. It was only after their father's death that they formed a subsequent opinion of him. Both Prince and Paris could take the stand and wind up providing evidence which supports the doctor."
Another source familiar with the inner workings of the legal case said the children could be cross examined about whether their father had long-standing drug addictions.
Article continues below advertisement
That source said: "After saying goodbye to her dad at the hospital, Paris is said to have remarked, 'My daddy is so cold again. He was always cold. He would sit by the fire to get warm. We were always afraid he would fall in as he was so close to the flames. He couldn't get warm. Now there he is... so cold.'
"Prince and Paris knew their dad relied on Dr. Murray to survive and knew their father adored him. Their comments could save him from jail because it would work well in the eyes of a jury."
The Jackson family insider said Prince Michael, if he testifies, would tell court how he walked into his father's bedroom in the middle of his doctor's doomed attempts to revive him.
Murray has insisted Prince Michael and Paris were bundled from the room after the star's daughter burst into tears and screamed 'Daddy'.
Murray -- who was hired as the late singer's personal doctor to assist Jackson in preparing for a series of planned comeback concerts in London -- has pled not guilty to involuntary manslaughter.