Dr. Conrad Murray Jury Selection Questionnaire Released: Radar Made It Onto The List!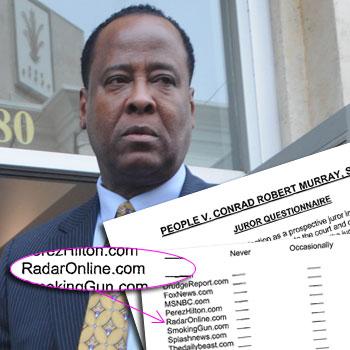 The jury selection questionnaire that is being used for the upcoming Dr. Conrad Murray involuntary manslaughter trial was released on Friday — and RadarOnline.com made it onto the list!
Question 32 asks: "What internet sites or blogs, if any, do you visit?" And listed between PerezHilton and the SmokingGun is RadarOnline.com!
Read The Questionnaire On RadarOnline.com
The questionnaire goes in-depth, quizzing potential jurors about their education level, employment history, their hobbies and recreational interests, news consumption habits, lifestyle and health issues, medication consumption, criminal background and past interactions with law enforcement and the court system.
Article continues below advertisement
In addition, potential jurors are quizzed about their " attitudes about celebrities and people in the news" and their "case knowledge and exposure."
More than half of the first panel of prospective jurors were dismissed on Thursday because of hardship claims. It's not known yet how many will be dismissed because of their pre-conceived ideas about Michael Jackson's death and of Dr. Murray.
Not surprisingly, all potential jurors have some knowledge of the case — when the judge asked on Thursday if anyone was unaware of it, not a single hand was raised.
"We didn't expect you'd been living under a rock for the past several years, or that you made a pit stop from Mars," Superior Court Judge Michael Pastor said in response.
Dr. Murray is accused of administering a lethal dose of the anesthetic, Propofol, to Jackson in the bedroom of the singer's mansion in June 2009. Murray denies all charges though, and his legal team contend that Jackson swallowed an overdose of Propofol when Murray was out of the room
Article continues below advertisement
Judge Pastor has warned potential jurors that if selected for the trial they must wait until 90 days after the case is over to negotiate any deals to be paid for information.
"This is not a case about whether Dr. Murray is guilty or innocent," Judge Pastor said. "It's about whether the people can meet the burden of proving him guilty beyond a reasonable doubt."
Prosecutors and defense attorneys will have several days to read through completed questionnaires. Direct questioning of potential jurors begins on Sept. 23.