Jermaine Jackson On Joe's Discipline, Plan To Smuggle Michael To Mid East & More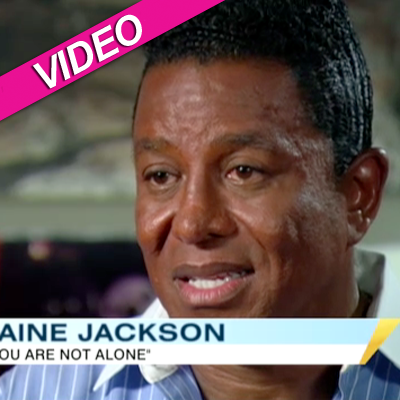 From hearing a young Michael Jackson endure a beating from their disciplinarian father, to smuggling Michael out of the country, to staring at Michael's casket, Jermaine Jackson held nothing back in an emotional ABC News interview Tuesday in support of his new book, You Are Not Alone: Michael, Through a Brother's Eyes.
Jermaine said he was excited the first time he heard Jackson family patriarch Joe discipline the young King of Pop with a switch (a thin rod used for whipping) because he knew that behind the discipline, there was care.
Article continues below advertisement
"Joe wanted to show us, 'I care about you,'" Jermaine said during a preview which aired on Good Morning America. "Even if I have to whip your butt, I care about you.'"
He continued, "We wouldn't want to be raised any other way, with the way he raised us. It's hard raising nine kids, bringing them from Indiana out here ... that was his whole thing, to wanting to keep his family together."
In a soundbite sure to stir some controversy, Jermaine said he was fully prepared to smuggle his younger brother out of the country when he was accused of child molestation in 2004.
"We would have gone to the Middle East, to Bahrain, to Saudi," Jermaine said, noting he wasn't worried about running afoul of the law because authorities "wouldn't have caught me."
"Why should he go to jail for something he didn't do?" he said of his brother, who was eventually acquitted of the charges in 2005.
Jermaine dug deep and discussed the moments following Michael's June 25, 2009 death in Holmby Hills, California.
Article continues below advertisement
"To hear my mother say, 'He's dead' -- to hear her say this -- I lost it. It couldn't be. It couldn't be. But when my mother said, 'He's dead,' I knew.
"And there he was, laying there," Jermaine said. "And La Toya was there before us. And he was lifeless. I touched his forehead, his face. And it was still soft. And I kissed him. And I pulled back his eyeballs to look in his eyes. And I just told him how much I love him and, 'I'm gonna miss you so much.'"
Watch the video on RadarOnline.com
Jermaine said to this day, he finds himself "saying, Michael, you're supposed to be here ... you have so many more years left on your life."
The entire piece will air on Tuesday's edition of Nightline at 11:35/10:35c; You Are Not Alone: Michael, Through a Brother's Eyes is in stores now.