Exclusive
Dr. Conrad Murray Trial Recap: MJ's Assistant 'I Was Never Told To Call 911'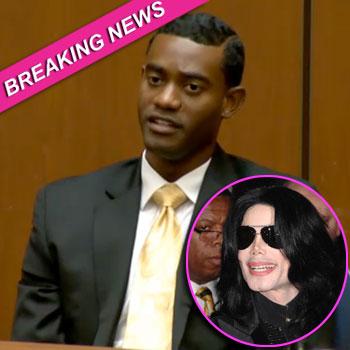 By Jen Heger - RadarOnline.com Legal Editor
Los Angeles Deputy District Attorney David Walgren has been methodically laying out the events that led to the tragic death of Michael Jackson, and RadarOnline.com is right there reporting from the courthouse. This is the second day of testimony in the involuntary manslaughter trial of Dr. Conrad Murray, who is accused of causing the King of Pop's death by acute propofol intoxication.
Article continues below advertisement
Jackson's longtime assistant, Michael Amir Williams testified Wednesday morning that in the moments after Michael Jackson was declared dead at UCLA, Dr. Murray asked him to take him back to the house because, "there was some cream in Michael Jackson's room that he wouldn't want the world to know about, and that he needed a ride back to the house."
However, Williams said he declined to do so after he consulted with Jackson's security, and they told him to place the house on lock down and not let anyone, especially Dr. Murray, back onto the property.
Williams also testified that he received a voicemail message from Murray at approximately 12:14 p.m., in which the doctor asked him to call him back right away. Williams immediately called and was told that Michael Jackson had "a bad reaction to something, and to get someone up to Mr. Jackson's bedroom." Walgren inquired if Dr. Murray ever told him to call 911, to which Williams replied: "I was never told to call 911." He was, however, able to reach one of Michael Jackson's security guards, Alberto Alvarez, and told him to go straight up to the room.
Article continues below advertisement
Earlier in the morning, AEG powerhouse attorney, Kathie Jorrie testified that she was responsible for the contract relating to Dr. Conrad Murray's services. Jorrie said she "found it odd that Dr. Murray asked for a CPR machine for Michael Jackson, and asked if Mr. Jackson had a heart condition, but Dr. Murray said that he was in perfect health." The employment contract was never signed by Michael Jackson or an AEG official.