Michael Jackson's Shocking Dead Body Photo Shown By Prosecution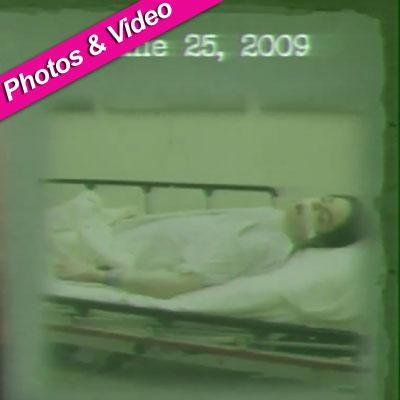 Senior Radar Reporter
In the opening statements in the Dr. Conrad Murray trial, the prosecution showed for the first time a shocking photo of Michael Jackson on a hospital gurney, presumably dead.
Wearing a hospital gown and wrist band and a bandage over his nose, Michael's body is lying on the gurney, with the date June 25, 2009 on the picture. It was juxtaposed with a photo of the King of Pop alive and on stage the day before, June 24, 2009 rehearsing for his "This Is It" tour.
Article continues below advertisement
"It was repeated, incompetent and unskilled acts that caused Michael Jackson's death," lead prosecutor David Walgren said to the jury within the first five minutes of his opening statement.
Michael's family, parents Joe and Katherine, as well as sibling LaToya, Janet, Randy and Jermaine Jackson are all in the courthouse for the trial.
Tuesday's session will include opening statements by both the prosecution and defense, followed by the first witness: director/choreographer Kenny Ortega, who was working with Jackson on his "This Is It" tour at the time of his death.