Conrad Murray Trial Recap: Jackson Dead Body Pic, Incoherent Voice Recording, & Kenny Ortega First To Testify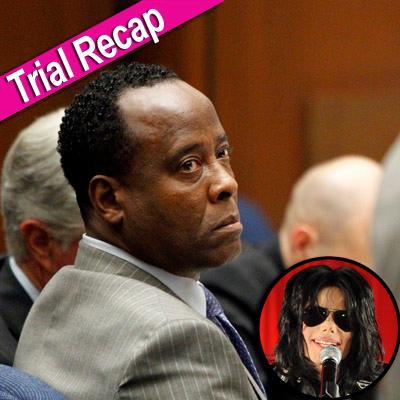 The trial of Dr. Conrad Murray, Michael Jackson's live-in physician at the time of his death, resumes Wednesday, and RadarOnline.com will be live streaming it beginning at 8:30 am PT/ 11:30 am ET.
Tuesday's proceedings were not at a loss for dramatic moments, as opening statements included a photo of Michael, dead; recordings of the King of Pop sounding incoherent; and the defense's opening statement in which they emphasized the Thriller singer had inadvertently killed himself.
Article continues below advertisement
The prosecution kicked off opening statements and wasted no time in trying to connect with the jury, showing them a shocking picture of Jackson dead on a hospital gurney, a sight Michael's sister LaToya told reporters was "heart wrenching."
In another key moment, Deputy District Attorney David Walgren played a taped conversation between Jackson and his doctor, in which the Black Or White singer, in a slow, slurred voice, told Murray he didn't want to perform a slate of 50 shows he was scheduled for in London. On the tape, Jackson is heard telling Murray, "We have to be phenomenal. When people leave this show, when people leave my show, I want them to say, 'I've never seen nothing like this in my life. Go. Go. I've never seen nothing like this. Go. It's amazing. He's the greatest entertainer in the world.'"
In his opening statement, Murray's defense attorney Ed Chernoff was just as bold as his peers on the other side of the courtroom, claiming that Jackson, wanting desperately to sleep, administered himself a lethal dose of propofol after he'd taken six doses of the sedative lorazepam.
"He died so rapidly, so instantly he didn't have time to close his eyes," Chernoff explained.
Jackson's longtime friend Kenny Ortega, who was slated to direct the 50-show engagement Jackson was scheduled for in England prior to his death, was the first to testify on behalf of the prosecution and said that the singer appeared dazed, confused and shivering in rehearsals for the affair.
Article continues below advertisement
Ortega testified he told Jackson's promoter AEG Live that "real emotional stuff" was happening in the rehearsals and that he felt "Jackson should be psychologically evaluated."
Ortega said that on June 19, 2009, just five days before Jackson's death, Murray brushed him off, telling him not to play doctor.
Just about every prominent member of the Jackson family -- including father Joe, mother Katherine, and siblings Janet, LaToya, Jermaine and Randy -- was in attendance at the courthouse Tuesday.
Murray, a 58-year-old Houston-based cardiologist, was present at the Man In The Mirror singer's rented Holmsby Hills mansion when he unexpectedly died at 50 on June 25, 2009. Jackson's official cause of death was deemed acute intoxication of a powerful anesthetic complicated by other sedatives.
Michael Jackson's Kids Prince & Paris Want To Testify In Manslaughter Trial
If convicted, Murray -- who's accused of gross negligence, medical abandonment and repeated incompetence -- faces up to four years in prison, as well as losing his medical license.
AEG Live exec Paul Gongaware, and two former employees of Jackson (a bodyguard and assistant) will be called to testify during Wednesday's proceedings.