Exclusive
Oxygen Tank Michael Jackson Was Using Day He Died Was Empty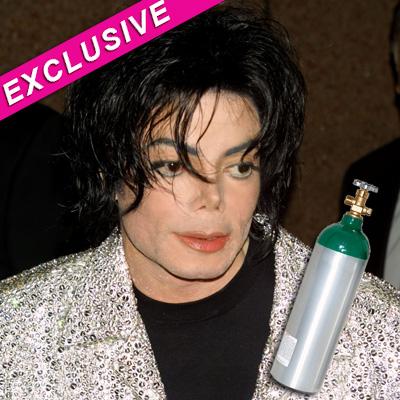 The oxygen tank Michael Jackson was using on the morning he died was empty, RadarOnline.com is exclusively reporting.
"There was absolutely no oxygen in the tank when it was tested by law enforcement personnel. Who knows how long Michael had been without oxygen. For Michael Jackson to have been given Propofol outside of a hospital setting is absolutely egregious, but then compound it with the fact the tank was empty, and it's beyond negligence. Michael wasn't properly being monitored, period. He should be alive," a source close to the situation tells RadarOnline.com.
Article continues below advertisement
Dr. Conrad Murray has been charged with involuntary manslaughter in connection with the King of Pop's death. Dr. Murray has admitted to giving Jackson the powerful anesthetic Propofol, but denies that he administered the fatal dose that killed his former superstar patient.
On Wednesday, Deputy District Attorney David Walgren questioned Los Angeles County Coroner investigator Elissa Fleak about the oxygen tank, Propofol bottles, and prescription medications that were recovered from Michael Jackson's bedroom.
As RadarOnline.com previously reported, prosecutors played an audio recording of Michael Jackson, on Wednesday, which was recorded by Dr. Conrad Murray on May 10, 2009.
In the recording, Jackson slurs: "Elvis didn't do it. Beatles didn't do it. We have to be phenomenal. When people leave this show, when people leave my show, I want them to say, 'I've never seen nothing like this in my life. Go. Go. I've never seen nothing like this. Go. It's Amazing. He's the greatest entertainer in the world.'
Article continues below advertisement
Conrad Murray Trial Recap: ER Doc Said Michael Jackson Was 'Clinically Dead' On Arrival
"I'm taking that money, a million children, children's hospital, the biggest in the world, Michael Jackson's Children's Hospital. Gonna have a movie theater, game room. Children are depressed. The – in these hospitals, no game room, no movie theater. They're sick because they're depressed. Their mind is depressing them. I want to give them that. I care about them, them angels. God wants me to do it. God wants me to do it. I'm gonna do it, Conrad."