Conrad Murray Trial Recap: Dr. Ordered 15 Liters Of Propofol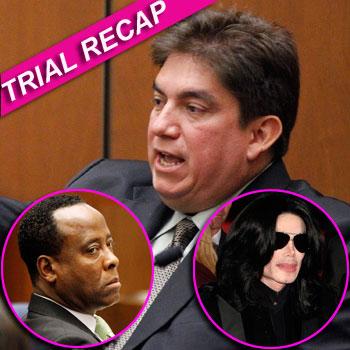 Dr. Conrad Murray ordered 15 liters of Propofol from a pharmacist, a court heard Tuesday.
The physician – who is standing trial for the involuntary manslaughter of Michael Jackson, who died of acute Propofol intoxication in June 2009 – told pharmacist, Tim Lopez, that the powerful anesthetic was intended for a number of patients at a clinic he ran in Los Angeles when he contacted his specialty pharmacy, Applied Pharmacy Services in April 2009.
Article continues below advertisement
Authorities have said that Murray did not have a clinic in California.
Lopez testified: "Murray asked me specifically to find pricing and availability of Propofol and normal saline IV bags."
The witness told Los Angeles Superior Court he had never sold the drug before but sent an initial order of 35 vials – 10 bottles of 100ml size and the remainder in 20ml size - to Murray's Las Vegas surgery three days later. The doctor removed some vials from the package and requested the rest be shipped to his Los Angeles clinic – though the address given was to an apartment he shared with his girlfriend, Nicole Alvez, and their newborn son.
MORE ON:
Celebrity Justice
Three weeks later, Lopez claims Murray asked for 40 more large size and 25 of the 20ml vials, with the same order placed again the following month.
Lopez testified that the final order Murray placed with the pharmacist was on June 10, 2009 – 15 days before the singer's death - for 40 large vials and 50 of the small ones.
The pharmacist testified that his first contact with Murray was in 2008 when he was approached seeking a medication cream used for whitening skin as he said he had patients with vitiligo, a disease which causes lack of pigmentation and that the Thriller hitmaker was believed to suffer from.