Michael Jackson Had 'Extremely High' Levels Of Propofol In System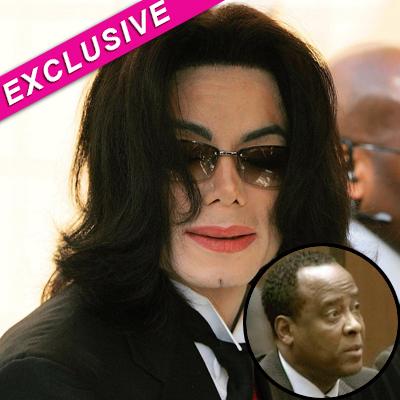 Dr. Conrad Murray's defense team has told jurors that the personal physician to Michael Jackson gave him 25 milligrams of Propofol, but RadarOnline.com has exclusively learned that the King of Pop had significantly higher levels of the powerful anesthetic in his system at the time of his death.
Dr. Murray's lawyers contend that when the Houston-based cardiologist left the superstar singer briefly on the morning of June 25, 2009, he grabbed a bottle of the drug, ingested it, and then subsequently died.
Article continues below advertisement
As testimony in the involuntary manslaughter trial enters its second week, it's expected that Deputy District Attorney Dave Walgren will be calling medical witnesses, including the coroner, who will reveal that: "Michael had toxic and lethal levels of Propofol in his system at the time he died. The levels of Propofol were extremely high, much higher than 25 milligrams of Propofol that Dr. Murray says he gave to Michael Jackson," a source close to the situation tells RadarOnline.com.
Walgren is methodically taking jurors through the time surrounding Jackson's death. The legal ace is maintaining that the jury should convict Dr. Murray of involuntary manslaughter because he was negligent in his actions before and after Jackson died.
As RadarOnline.com previously reported, Jackson's fingerprints weren't found on any Propofol or Lorazepam bottles that were at the death scene. "Plain and simply, the Los Angeles Police Department didn't find any fingerprints of Michael Jackson's on ANY Propofol bottles or the Lorazepam bottles. There were no partial fingerprints of Michael's or any unknown prints on the medication bottles," a source close to the situation says.
Article continues below advertisement
Two paramedics and two doctors that treated Michael Jackson at the Ronald Reagan UCLA Medical Center told jurors that Dr. Murray never revealed he had given Jackson Propofol.
Alberto Alvarez, one of Jackson's security guards, testified that Dr. Murray instructed him to put Propofol bottles in bags before 911 was called.
RELATED STORIES:
Paramedic Testifies Michael Jackson Could Have Been Saved If 9-1-1 Was Called Sooner