Exclusive
Michael Jackson's Fingerprints Not On Any Propofol Bottles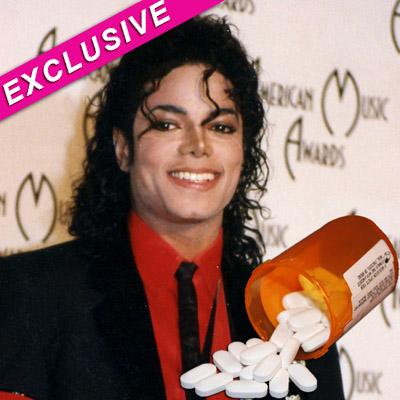 As Dr. Conrad Murray's involuntary manslaughter trial enters its second week, RadarOnline.com has exclusively learned that Michael Jackson's fingerprints were not found on any of the Propofol bottles.
Dr. Murray's lawyers contend that when the Houston-based cardiologist left the King of Pop briefly on the morning of June 25, 2009, he grabbed a bottle of the drug, ingested it, and then subsequently died.
Article continues below advertisement
Dr. Murray's attorney Ed Chernoff told the jury during opening statements that Jackson self-administered an extra dose of Propofol and Lorazepam creating "a perfect storm in his body, that killed him instantly...there was no CPR, nor doctor, no paramedic, no machine that was going to revive Michael Jackson. He died so rapidly, so instantly, he didn't even have time to close his eyes."
The defense might have a hard time convincing the jury of this, since there were no fingerprints of Jackson's found on any of the Propofol bottles. "Plain and simply, the Los Angeles Police Department didn't find any fingerprints of Michael Jackson's on ANY Propofol bottles or the Lorazepam bottles. There were no partial fingerprints of Michael's or any unknown prints on the medication bottles," a source close to the situation tells us.
It was a blistering week for Dr. Murray's defense team, as two paramedics, and the attending emergency room doctor all testified that at no point did Dr. Murray ever reveal that he had given Jackson Propofol. The first paramedic on the scene, Richard Senneff said that after Jackson was loaded into the ambulance, he went back up to the bedroom to quickly retrieve some medical equipment. The medic told the jury he saw Murray putting lidocaine vials into a bag.
Article continues below advertisement
The Jackson Family Arrive at Dr. Conrad Murray's Trial
Paramedic Martin Blount also took the stand and testified that when he arrived at Jackson's house, Dr. Murray appeared "agitated" and asked "for help."
Dr. Richelle Cooper, the emergency room doctor at the Ronald Reagan UCLA Medical Center, who treated Jackson, told jurors on Friday that he was "clinically dead" on arrival. She will resume her testimony on Monday morning.