What Do Lindsay Lohan And Conrad Murray Have In Common?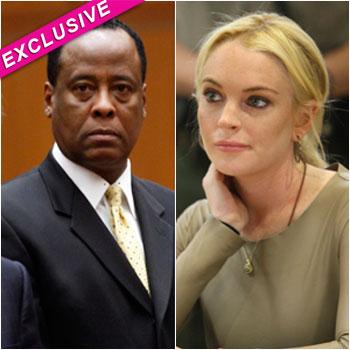 By Jen Heger - RadarOnline.com Legal Editor
What does embattled Dr. Conrad Murray have in common with troubled starlet Lindsay Lohan?
Both were accused of crimes, and both, it turns out, weren't charged with serious felonies. Dr. Murray is facing felony involuntary manslaughter, which under California law, isn't considered a serious felony, and is in the same realm as grand theft felony, which Lohan was charged with earlier this year.
Article continues below advertisement
Former Deputy District Attorney Hamid Towfigh revealed on RadarOnline.com Live on Friday that "under California law, involuntary manslaughter isn't even considered a serious felony. It's in the same realm of offenses as grand theft, narcotics possessions, what have you, and Conrad Murray, even if the D.A. is successful in this prosecution, is gonna face the same amount of time that Lindsay Lohan was facing in the shoplifting incident. She was facing three years, he is facing four years."
Lindsay's felony grand theft charge was reduced to a misdemeanor, to which she pled no contest.
Towfigh, the campaign manger for Danette Meyer's bid to become the next District Attorney for Los Angeles said Dr. Murray should have been charged with second degree murder.
"You file the murder charge..when the jury instructions are given, and the defense asks for the lesser or related..included instruction. You know what, in fact, it's not too late, the D.A. can still charge second degree murder, up to and including jury instruction," Hamid says.
Article continues below advertisement