Dental Assistant Fired For Being Too Hot Seeks Court Rehearing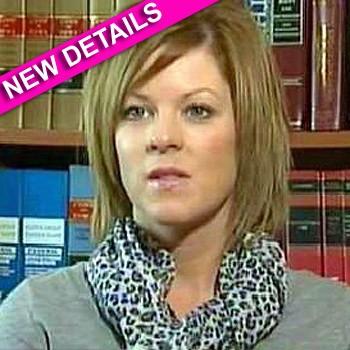 Melissa Nelson, the woman fired from her job as a dental assistant after her boss said she was an "irresistible attraction," is seeking a rehearing after the Iowa Supreme Court ruled that she was not the victim of illegal sex discrimination.
The petition, filed by Nelson's attorney, Paige Fiedler, said she was fired "simply for existing as an attractive female."
Nelson worked for Dr. James Knight in Fort Dodge, Iowa, for a decade when the dentist began sending her inappropriate text messages.
Article continues below advertisement
As RadarOnline.com previously reported, according to court documents, Knight texted his employee that her clothes were too revealing and asked how often she experienced orgasms. He also complained to her about his infrequent sex with his wife and said that seeing Nelson at work was "like having a Lamborghini in the garage and never driving it."
Knight doesn't dispute that after his wife found out about one of the text messages, she ordered her husband to fire Nelson and he did. Even though Nelson is happily married herself, the dentist claimed he "feared he would have an affair with Nelson down the road" if he didn't fire her. The court concurred with his defense that a boss "has the right to honor the wishes of a family member" without committing discrimination.
Last month, the all-male Iowa Supreme Court upheld the lower court ruling.
The dental assistant, who has a young daughter, said she was "devastated" and added, "I think it is sending a message that men can do whatever they want in the work force."
In asking for a rehearing of the case, attorney Fielder said the ruling didn't fit the court's legacy of civil rights decisions. "An error doesn't become a mistake until you refuse to correct it," the petition noted. "It would take great courage for this court to correct its mistake. But it has a proud tradition of great courage."