Kim Kardashian's 'Simple Life' Exposed: Designer Heels, Bling, Private Planes & Exotic Autos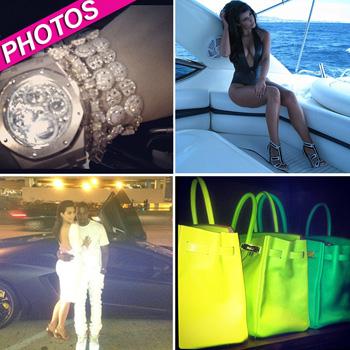 If actions speak louder than words and a picture is worth a thousand words, than Kim Kardashian has a lot of explaining to do!
The reality star, who was mocked on The View last week when she boldly proclaimed that she's a changed woman after splitting from Kris Humphries and that she cares more "about the simple things," certainly hasn't done a good job of relaying this new image via her social media, sharing a slew of photos over the past few months of her far from "simple" life, and RadarOnline.com has the images.
Article continues below advertisement
"I'm such a different person today," Kim expressed to the ladies about how her split with the NBA star changed her. "I care more about the simple things.
"You really figure out what's important in life. I value time more. Staying at home, doing nothing, cooking in. It's not all about the glitz and glamour of a relationship."
Oh, really?
Since she was first linked to Kanye West in Spring 2012, Kim has documented her lavish lifestyle on her Twitter page, sharing a bevy of personal photos of the couple's far from average existence.
When it comes to transportation, you won't find Kim sitting in the back of a taxicab! From the matte black Lamborghini that the reality star treated the rapper to for his birthday and her "other other Benz," to private planes and sprawling yachts, the 31-year-old definitely rides in style.
When it comes to her wardrobe, don't expect Kim to wear anything less than the best! From late night Pucci gown fittings and dazzling diamonds to designer heels and bags, she makes sure to chronicle her fashion faves for her fans.
Article continues below advertisement
Kim can't get enough of J Brand's leather jeans, even though she thought they made her butt look big, but that didn't stop her from scooping up 6 pairs of the $900 pants!
And Kim was first spotted in West's $6,000 hooves for Giuseppe Zanotti back in March, and she hasn't stopped rocking them since. But don't worry – she has multiple pairs of the uber-expensive beaded heels.
"Going green" refers to being environmentally friendly for most people, but to Kim it translates to three shades of ridiculously expensive Hermes Birkin bags!